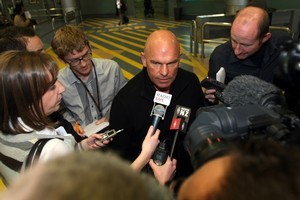 Act Leader Rodney Hide has refused to reveal what action if any he will take over David Garrett's public admission of identity theft until he meets with the MP this afternoon.
Mr Hide arrived back in Auckland about 8.30am after cutting short a trip to Hong Kong. He was greeted by about a dozen journalists at Auckland International Airport.
Asked how he would respond to the storm sparked by Mr Garrett's revelations, Mr Hide said he was going to Wellington and would speak to Mr Garrett this afternoon.
"I will be speaking to him first," Mr Hide said. "I need to see David and talk to him."
Mr Hide refused to answer questions on whether he would accept any offer of resignation from Mr Garrett and said he would speak to media after he had met with the MP.
Mr Garrett is also due to give a media conference this afternoon.
Asked if he thought Mr Garrett's actions would impact on Act's election chances, Mr Hide said: "I'm not a person given to worry. I do my best to be the best MP I can for Epsom."
Mr Hide said his responsibility was to be a good minister.
Earlier this week, Mr Hide said he had "absolute confidence" in Mr Garrett.
Details of Mr Garrett's deception are revealed in court papers from 2005 when he was charged with forging a document, namely a passport application form.
In his sentencing notes, Judge Keith de Ridder said: "There were deliberate acts involving several steps. There is a considerable act of planning in carrying out the crime."
The mother of the 2 year-old boy whose identity was stolen by Mr Garrett has described the identity theft as "stealing from the grave".
A brother of the dead child said yesterday that Mr Garrett was the "lowest of the low" and should be kicked out of Parliament.
Court documents reveal Mr Garrett visited a cemetery in New Plymouth in 1984 and found the gravestone of the boy, whose birthdate was close to his own.
He copied the details, obtained the child's birth certificate, filled out a passport application form and photographed himself in a disguise which included dyed hair and glasses.
Mr Garrett gave a fake postal address in Christchurch on his application form.
He was arrested 21 years later, after having first denied the allegations to police, and was discharged without conviction when the case went to court.
North Shore District Court Judge Philippa Cunningham yesterday revoked a suppression order placed on the case in 2005, but suppressed the identity of the baby and his family.
Judge de Ridder said in 2005: "Basically he has otherwise a blameless record and he seeks an order from the court to allow him to retain his reputation that he has built up over 13 years."
But the MP revealed on Wednesday that his record was not blameless, confirming that he had been charged with assault in Tonga in 2002 and fined $10.
One News reported last night that Mr Garrett might have misled the court by claiming in a document associated with his 2005 case that he had no criminal record.
Yesterday, the brother of the dead boy told the Herald: " How much lower can you go? I know damn well if my father was alive, being a Scotsman, he would have gone after him, I would think."
He said he would probably "lose his cool" if he came face to face with Mr Garrett.
Act leader Rodney Hide, who has stood by his MP, "is just as guilty as far as I'm concerned", the brother said.
His 94-year-old mother was "disgusted over the whole thing", he said.
"It was stressful at the time [of the death], and it was brought out 20-odd years ago, and here it is blown up again. Which is something that I am sure nobody wants brought up over and over again in their lifetime."
He was not aware of any apology that had come from Mr Garrett, but thought his mother would be expecting one.
"Surely the guy has got the balls to stand up and say, 'I did something wrong'. And he didn't do that."
The man said he was about 16 when his 2-year-old brother was admitted to hospital after contracting a virus infection. Death came suddenly.
He described his young brother as "a real bubbly little kid", and his death as a "hell of a shock" to the family.
Another brother said that as far as he knew, no one in his family had received an apology, let alone an explanation, from Mr Garrett.
"It's quite alarming. I didn't think that sort of thing was happening here. It's very hard to believe that a person could consider taking the identity of a baby," he said.
In the court documents, the deceased child's mother said the identity theft caused her considerable stress and anxiety, and what Mr Garrett did was "akin to stealing from a grave".
The police summary said when Mr Garrett was arrested he said he had "delusions of grandeur" and that he hadn't expected to be able to subvert processes and obtain the passport.
In court, Mr Garrett's lawyer, Gary Gotlieb, told the judge his client was a lawyer and faced losing his practising certificate if convicted.
Mr Garrett was taking medication for anxiety at the time and there was no chance he would appear before the courts again.
Yesterday, an Act source told the Herald that because of the suppression order, Mr Garrett's identity theft charge was a well-kept secret within the party, known until this week by only four senior members.
The source said it was likely the information was leaked this week by one of those four members.
- Paul Harper, Edward Gay, Jarrod Booker, Adam Bennett and James Ihaka and NZHERALD STAFF, ADDITIONAL REPORTING: NZPA