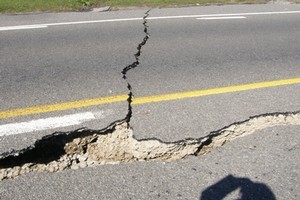 Rebuilding the damage caused by yesterday's earthquake could create a much-needed economic upturn for Canterbury contractors and tradesmen who have been struggling for work since the recession.
New Zealand Contractors Federation southern regional manager Ollie Turner told NZPA it would be liaising with Civil Defence and Christchurch City Council to determine what can be done next.
"The economic downturn has been tough on contractors in Canterbury, with most of the big contracts happening in Auckland and the North Island," he said.
"So I hate to say it but it has taken a disaster to create economic action here," Mr Turner added.
He said that while wooden buildings had withstood the earthquake well, the brick buildings had "taken a beating".
But Mr Turner said it also depended on the ground where the structures were built.
"There's buildings out on the sand at Burwood where the water table is very high, so the ground the buildings stand on obviously has an effect on how they cope too," he said.
"A lot of the damage has occurred under the ground with the water and sewerage system, but we have the resources there to quickly fix it," Mr Turner added.
The New Zealand Contractors Federation has 400 members, so Mr Turner said there was a huge amount of resources available.
"We have the capacity to coordinate a lot of the rebuilding, because we know which contractors have the competency and expertise in each particular area.
"There is a role for us to help, whether it be as individuals or collectively, so we can get a speedy remediation with the least disruption," he said.
Mr Turner said consideration would have to be given to whether buildings were reinstated or upgraded, with thought to the future.
"Buildings will have to be very well constructed with well-thought out remediation.
"Tradesmen such as builders, plumbers and roofers can repair the immediate damage but we also have to look to the long-term infrastructure when re-building the city.
"I hate to see this happening in my own community but everybody is pulling together, and we're very lucky there were no casualties because if it had happened four or five hours earlier, the consequences could have been a lot worse than," Mr Turner said.
The Christchurch City Council said in a statement there are more than 500 damaged buildings, 90 of which were in the central city area.
While there had been damage to minor bridges, major ones had withstood the quake. However, some roads had been closed due to liquefaction or flooding.
Some 240 residents left their homes, taking overnight shelter at three welfare centres set up in the city yesterday.
The central city would remain cordoned off and there would be no public access before Monday, with the exception of residents, the council said.
The council's building evaluation team would inspect all buildings within the central zone, tagging red placards to buildings considered unsafe, yellow on buildings assigned restricted use, and green on buildings with no restrictions.
The council hoped to have the damage assessment completed today, and the yellow and green tagged buildings cleaned up on Monday.
- NZPA