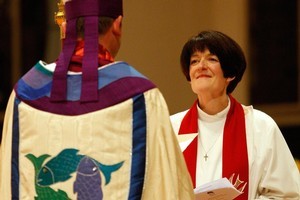 Auckland's first female Anglican dean has been installed, in an intimate ceremony in the city last night.
Jo Kelly-Moore, 42, was welcomed as the new Anglican Dean of Auckland at a service at the Holy Trinity Cathedral in Parnell.
Family and friends watched as she was brought in by parishioners of St Aidan's Anglican Church in Remuera, where she has been a vicar since 2004.
She is the first woman to be made an Anglican dean in Auckland, and the second woman to be made an Anglican dean in New Zealand's history.
The first female and current dean of the Waiapu Anglican Cathedral in Napier is The Very Reverend Helen Jacobi.
Bishop of Auckland Ross Bay said her appointment was about recognising her role in leadership in the church.
"She comes to the cathedral as a committed priest with previous skills in the wider church and as a lawyer," he said.
"I'm looking forward to her leading the cathedral in this city."
The Very Reverend Kelly-Moore said she was looking forward to her new role at the cathedral . She described Holy Trinity Cathedral as a voice in the city on issues impinging on daily life in Auckland as well as a place of peace.
She will host the Diocesan Synod at the cathedral on September 2 - one of the first events she will take part in as the new Anglican Dean of Auckland.