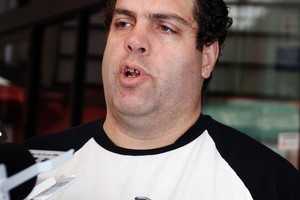 Canmeron Slater. Photo / Sarah Ivey
Blogger Cameron Slater went on trial today, charged with breaching court-imposed suppression orders.
Slater appeared in Auckland District Court facing nine charges of breaching a court order prohibiting publication of a person's name or any of their particulars.
He also faced a further charge of breaching a court order to protect the identity of a victim.
Some of the charges related to two blog posts that contained pictures revealing the identities of a prominent New Zealand entertainer and a former New Zealand Olympian who were each charged with sexual offences.
Another charge related to posting a coded message identifying a former MP charged with indecently assaulting a 13-year-old girl.
Four charges related to publishing names of people who had appeared in court on primarily sex or violence charges and had had their names suppressed.
Slater has previously said his defence would be based on freedom of speech issues and openness in a democracy.
Each of the charges carried a maximum penalty of a $1000 fine.
- NZPA