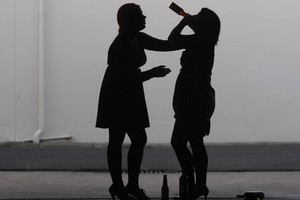 Anything less than a full-scale embrace of the Law Commission's 153 recommendations on reducing the harm caused by alcohol was always going to lead to accusations of Government tinkering and timidity.
But the plans announced yesterday amount to a reasonably practical and coherent response to the problems that have arisen from two decades of liberal liquor laws.
Sensibly, the temptation to return to a time when access to liquor was strictly constrained, but drinking habits were in many ways worse, has been resisted. Instead, there is to be a targeted assault on the excesses encouraged by the current regime.
This involves two major thrusts, the first to curtail teenage binge drinking, and the second to stop the proliferation of liquor outlets, often against the wishes of local communities.
In the first instance, it is proposed to raise the purchasing age in off-licences from 18 to 20, while keeping it at 18 in bars.
This has been criticised for making youth the scapegoat of the country's drinking culture.
There may be some truth in this, but there has, undeniably, been an increase in binge drinking among the young, as highlighted by alcohol-related admissions to hospital.
The split age seeks to address that by recognising this is not behaviour practised in bars. Rather, binge drinkers tend to buy their liquor from off-licences and consume it in cars, at parks or in the home. Banning liquor from that source for those under 20 is a logical way of restricting supply. It is not, however, foolproof, and must be underpinned by rigorous enforcement of the age limit.
While the Government proposes to increase penalties for a range of licence breaches, this aspect, unfortunately, is not included. That should not, however, preclude MPs from exercising their conscience vote in favour of this part of the package.
Equally, it is right that communities should be able to determine the scale and character of liquor supply in their area. At the moment, the chance for public input is strictly limited.
Under the proposed changes, local communities will decide their own alcohol plans, including the concentration, location and opening hours of outlets. It will be only natural, and of no concern, if this results in considerable variation. Overall, it should also mean a welcome reduction in the number of outlets.
The Government has also been keen to trumpet a change that will make it an offence for anyone other than a parent or guardian to provide liquor to an under-18-year-old without a parent's or guardian's consent.
This is aimed at school after-ball parties, where the organisers will also have to ensure liquor flows in "a responsible manner". It may serve a purpose in that context. Expecting adherence in more mundane circumstances seems somewhat fanciful, however.
Other welcome measures include restrictions on the alcohol content of alcopops and allowing the Justice Minister to ban dangerous alcohol products. But the Government will be much criticised for what it has not picked up from the Law Commission report, including the stifling of advertising and promotion and, especially, a recommendation to make liquor more expensive.
Increased taxes have worked to a degree in lowering the number of those smoking cigarettes. But it seems unlikely to be a substantial deterrent to the group of hard-core drinkers.
Most pertinently, lifting the excise on liquor would also penalise those who drink responsibly. They and the country would be ill-served by a retreat to the tight controls of the past.
Ultimately, a civilised drinking culture will be the product of a better attitude. Reforms such as that proposed by the Government can go only part of the way towards that.