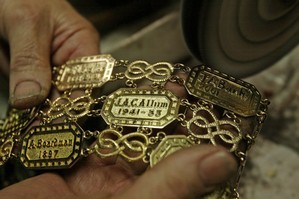 Once, local elections in New Zealand were said to be farmer vs farmer. This year, they are former vs former.
A former health board chairman against a former airport boss; a former deputy prime minister against a former television host; a former war protester against a former country singer; a former MP against a former stripper ...
But the candidate who does "former" best of all - former man, former prostitute, former Carterton mayor, former MP, former Michael Hill Jeweller sales assistant Georgina Beyer - is now also a former candidate. She withdrew from her bid for the Masterton mayoralty, denying the country one of the few sparks of colour in the 2010 local elections.
Not for nothing is local politics seen as a way for those who have made their names and their money on a national stage to while their days away to retirement, and the golf course.
The Auckland Supercity race between Auckland Mayor John Banks (former MP, former talkback host) and Manukau's Len Brown (former lawyer) is too tight to call, after first Banks then Brown squandered enormous poll leads to leave voters with a choice between two men who are now both too risk-averse to take a strong position on anything.
New Zealand's biggest local politics election could be its dullest.
In the Far North, former Auckland District Health Board chairman Wayne Brown seems on track to make the mayoralty his job for life. Another well-known high-flyer, former Auckland Airport boss and Lotteries Commission chairman Sir John Goulter, is not expected to pose too much of a threat.
In Whangarei, combative Mayor Stan Semenoff, who has lost the mayoralty before then won it back, faces a couple of stiff challenges. Former auctioneer Morris Cutforth is rumoured to have heavyweight business backing, but it is property developer Paul Jeeves, just returned from overseas, who could be the late surprise. With harbour pollution and civic vision big issues in the town, Semenoff's days may be be numbered.
South of the Bombay Hills in Hamilton, there will be plenty of colour thanks to a couple of unusual fringe candidates, but incumbent Bob Simcock, a former National MP, is a shoo-in for his second term.
Stripper-cum-prostitute Lisa Lewis (former rugby streaker and topless TV newsreader) added interest by putting her name forward on Thursday.
And a local GP temporarily suspended by the Medical Council this week - Dr Suresh Vatsyayann - will also stand. Vatsyayann has already made it onto the Waikato District Health Board - only to be suspended for his repeated criticism of fellow members and staff. His practising suspension is over multiple patient complaints.
Stuart Crosby should hold on easily in New Zealand's fastest-growing city, Tauranga. His only real challenge is to hold on to that growth title against Auckland, with its sudden expansion to 1.4 million people. And round the bay in Whakatane, there is an open race with two former MPs - Judy Turner and Ian Shearer - both throwing their hats in the ring.
In Rotorua, Kevin Winters should keep his job against a challenge from businessman Charles Sturt. And in Taupo, Mark Burton, a former defence minister, is making a run for mayor. Labour's Burton lost the Taupo electorate in the 2008 election - but he may yet have enough residual support to pose a threat to popular incumbent Rick Cooper.
Down the State Highway 5, and the two incumbents in Napier and Hastings are both tipped to hold on for fourth terms. Napier's Barbara Arnott, who is said to run a tidy city with an iron fist, faces only one challenge from longtime social issues battler Michelle Pyke.
Lawrence Yule's high name recognition as Hastings Mayor and chairman of Local Government New Zealand should allow him to easily stave off his low-profile challengers.
New Plymouth is an open race, with another former MP and minister, Labour's Harry Duynhoven, having a tilt. Indeed, it seems Ministerial Services might as well write "mayoral salary" into the pension package of ousted ministers.
The Wanganui mayoral race is most notable for who is not there, rather than who is. Controversial talkback host Michael Laws was true to his word and did not stand again, denying voters a chance to show their view of his now much-talked about about private life.
Former world rowing champion Philippa Baker-Hogan is the notable new nominee, but Dot McKinnon's experience may count for more than sporting celebrity.
Palmerston North's Jono Naylor should hold on against a renewed challenge from Mark Bell-Booth.
In Masterton, incumbent Garry Daniell was handed another mayoral term on a plate, when Georgina Beyer, whose main campaign platform was her status as the world's first transsexual MP, pulled out of the race.
Daniell will probably be joined by hardworking former NZ First MP Ron Mark, as Carterton mayor, and Adrienne Staples it seen as a sure bet for another term in South Wairarapa.
The three are likely to work closely together as they move towards establishing a Wairarapa supercouncil - as much as anything to avoid Wellington Mayor Kerry Prendergast's predatory eye.
At the bottom of the island, she is keen to subsume Porirua, Kapiti Coast, Hutt City, Upper Hutt and even the Wairarapa - on the other side of the treacherous Rimutaka Hill Rd - into a supercapital to somehow rival Auckland.
She had said she would retire at the election but, seemingly uncertain about what she would do for a job outside politics, instead chucked her hat in the ring for one more run. None of her five challengers will prove a threat.
Porirua is an open race, with the departure of four-term Mayor Jenny Brash. Former race relations conciliator Gregory Fortuin and former education minister Russell Marshall look unlikely to beat respected Deputy Mayor Litea Ah Hoi.
Former deputy prime minister Jim Anderton is expected to go close to toppling Bob Parker for the Christchurch mayoralty.
Anderton is attacking Parker over the purchase of troubled developer Dave Henderson's central city properties, which cost ratepayers $17m, and the lack of transparency over the Ellerslie Flower Show.
But Parker has criticised Anderton's intention to stay on as an MP till the next election if he wins, saying Christchurch would have a part-time mayor.
And it is those in the Deep South who seem to be having the most fun. Singer Suzanne Prentice is taking a tilt at Tim Shadbolt in Invercargill.