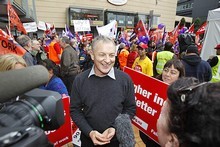 Hundreds of workers took to the streets in the three main centres today to protest against law changes unions describe as the biggest labour reform in 20 years.
A batch of changes introduced in Parliament this week would extend a 90-day trial period without normal legal protections to new employees in firms of all sizes, make unions get an employer's consent before entering a workplace, let employers demand doctor's certificates for workers taking even a single sick day and let workers trade in one week's annual holiday for cash.
It would also make it harder for sacked workers to win compensation by subtle changes of wording and a clear statement that a dismissal can't be held to be unjustified solely because of "minor or technical" defects in the process.
Council of Trade Unions president Helen Kelly said the biggest threat to workers came from the package as a whole rather than from any single part of it.
"When you put things like sick leave and 90-day trials together, you get trouble," she said.
"When you put union access to workplaces into that, that means people are being required to prove sick leave or sign 90-day agreements and can't get access to union advice ... this is the most major labour reform in 20 years."
She said the rallies at 1pm today in Auckland, Wellington and Christchurch, and tomorrow in Dunedin, would be just the start of a campaign that would go on until the proposed law changes were withdrawn or repealed.
"There will be further rallies all over the country, and more strike action and more videos. I intend to go to every provincial town."
The campaign has focused so far on the 90-day trial period, which was promised in the National Party's 2008 election policy as a "voluntary" option for new employees and employers with fewer than 20 employees.
It was implemented as promised from March last year.
Workers hired under the 90-day law can be sacked with no rights to compensation for unjustified dismissal, although they still have other legal protections such as the right not to be discriminated against.
A Labour Department evaluation found that half of the small employers who hired new workers up to May this year used the trial period, and that 40 per cent of employers who used it said they would probably not have hired the people they hired without it.
There was no evidence that employers used the trial period as intended to hire people with "disadvantages", except possibly for young people. Ten per cent of those hired under the scheme were first-time workers and 43 per cent were aged under 25.
Almost a quarter (22 per cent) of those hired were fired during the 90-day trial, mainly for poor performance or attitudes.
"There is no evidence linking this 90-day trial to any job creation," Ms Kelly said. Opening it up to all employers would expose far more people to working without the usual protections.
But Employers and Manufacturers Association advisory services manager David Lowe said the scheme gave employers "the confidence to hire sooner rather than later".
"It's not necessarily a difference between jobs being here and not being here. It's about timing," he said.
Labour Minister Kate Wilkinson said most other developed countries had longer trial periods.
"The Australian Labor Party has introduced a trial period of 12 months or six months, depending on the business. The feedback we've had is that three months works well," she said.
"I think the unions are over-reacting. If people want to take part in these rallies they should have a look at the bills and see that the changes are thoughtful, moderate, pragmatic and, above all, fair."
LAW CHANGES
Meal breaks bill
* Removes fixed 10-minute and half-hour breaks, allows flexibility.
Employment Relations Bill
* Extends optional 90-day trial for new employees to all employers.
* Requires employer consent for union access to workplace; consent cannot be withheld unreasonably.
* Ends compensation for dismissal where employer makes only "minor or technical" mistakes.
* Lets employers communicate directly with workers during collective bargaining.
Holidays bill
* Lets employers require doctor's certificate for even one day's illness, at employer's expense.
* Lets employees request cash instead of fourth week's leave.
* Allows transfer of public holidays to other days by agreement.
- with NZ Herald staff
By Simon Collins

Email

Simon