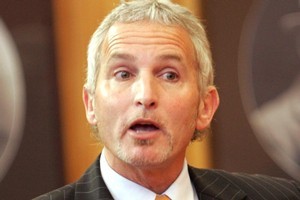 When you're known for piercing public views, including suggesting some of the underclass be sterilised to stop them having babies, then find the media threatening to spill the beans over a private affair you had with a former P addict/prostitute under house arrest, what should you do: tell the whole truth, part of the truth, fudge it until you can figure out how much the reporters know, or just say nothing?
Contentious Wanganui mayor Michael Laws found himself in this situation late last week and beat the media to the big reveal by confessing not all, but enough, on his talkback radio show, thereby pre-empting the Sunday papers from splurging what he assumed were going to be lurid details of his relationship with Auckland woman Jackie Sperling.
And with that, say public relations experts we spoke to, the story should have died.
But along came the internet.
Laws' decision has ignited a minor but well-read disagreement between two former television journalists-turned-public relations men who specialise in what's known in the PR trade as crisis management and who are keen bloggers.
Brian Edwards, formerly of Fair Go, is a proponent of the quick, clean confession and in his blog heartily approves of Laws' tactic - "getting things out in the open pulls the teeth of an intended media expose and ensures that your version of events appears first and is accurately reported".
Bill Ralston, former head of TVNZ news (and now spokesman for the Hong Kong-based dairy company trying to buy up the Crafar farms) begs to differ.
In his blog he says there may well have been no story if Laws "hadn't started panicking and flapping his jaw".
He says Laws surmised wrongly, on the basis of rumour or paranoia, that the woman had leaked spicy emails and texts to a Sunday paper and decided to take the sting out of it by outing himself.
"Instead, he only foolishly stung himself, inflating this tacky story's newsworthiness and in doing so he broke every rule of crisis management."
Kathy Cunningham, who runs Empire Public Relations and Events, is one of the few who agrees with Ralston there was no need for Laws to speak up.
He didn't do anything wrong and there was no need to confess anything, she says.
"I'm interested because, first of all there is no story, so the blogs are really making it a story. The fact that this 'story' is still alive defies logic."
If something tragic, such as an aeroplane crash or milk powder contamination happened, her policy for clients would be to tell the truth first and fast.
But Laws' case was nothing like the same thing, she says, so the rules changed. "If Michael was a client, my professional advice would have been to learn about the current landscape and stay quiet. He did not need to come out first in this instance."
However, Auckland PR maven Deborah Pead says Laws did the right thing, as in such circumstances you want to manage your own bad news, because you don't want other people driving that agenda. In doing this, she said, Laws' almost certainly "scooped" the story, leaving only limited appeal for the media.
"If you think about ... the whole controversy over [political] spending, you had Shane Jones who did the mea culpa, mea culpa, mea culpa, over and over again to whoever would listen, and then you had Chris Carter who was beating a hasty retreat down corridors. Which one came out looking better?"
Malcolm Boyle, founder of the Baldwin Boyle Group and now with Star PR, has had many high-profile clients, including former All Black Robin Brooke and politician Richard Worth, both of whom he has helped with crisis management.
He says letting the media set the agenda is dangerous:
"It's best to go early and come clean. And it's an old ruse really, setting the agenda before the media has time to really get around it."
If you don't do what you can to extinguish the issue, what might have been a moderate story becomes much more. "By trying to mitigate it and excuse it ... you're pouring petrol on the flames."
Others have made similar comments. Sarah Williams, executive director with Porter Novelli: "We sort of have a little mantra that if you do something wrong and you think you're going to get found out, you just 'fess up and front up. It's very hard to continue taking issue with those who say 'look, I've made a mistake, I'm sorry, I've done something wrong', whatever it is. And that goes for companies as well."
And Liane Donovan of Auckland firm Donovan Boyle: "I think at the end of the day people appreciate someone taking ownership and honesty. Therefore, [Laws] pre-empting malicious gossip was a brave thing to do. Of course, he didn't know whether those threats were genuine and whether he was going to be outed."
Better to have him on the front page for this than on the front page clambering for cover, she says.
BILL RALSTON'S SIX RULES OF CRISIS MANAGEMENT
ONE
First engage brain and try to think the problem through rationally.
TWO
Assume nothing, clearly establish the facts, and don't ascribe motives to what's happening until there is clear proof.
THREE
Wait for the media to contact you. Then, first interview them to find out what they know and what they intend doing with it.
FOUR
If the media haven't contacted you and you cannot bear not knowing what's going on, make inquiries of the editor as to his/her intentions (preferably without revealing all when the paper knows little or nothing).
FIVE
Before making any comment, stall the inquiries while you work out exactly what you need to say and don't wish to say.
SIX
Tell the truth and nothing but the truth (you don't have to tell them the whole truth - that's their job to find out) and don't embroider the story with patently lame excuses of the "I just popped in for a cuppa and chat about a book" variety.
BRIAN EDWARDS RESPONDS
I'll go with points 1 and 2. Then you suggest "interviewing the media to find out what they know and what they intend doing about it". Sadly, the interview will become part of the story and will almost certainly be used against you.
Rule 4 requires you to ring the editor, "preferably without compromising yourself by revealing all when the paper knows little or nothing". Now that would be bloody clever of you. Perhaps you could offer your readers a sample transcript of just how to go about it.
Rule 5 "stall the inquiries". Sample transcript again thanks.
Rule 6. "You don't have to tell them the whole truth." Better to have them drag it out of you on live TV, Bill? Our motto has always been "the truth, the whole truth and nothing but the truth".
The reality is that the whole truth will come out eventually anyway. Secrets and lies, Bill, secrets and lies. Never a good approach.