As Auckland merges to create a supercity, the Herald looks back at how Auckland has changed over the years. Click here to view the full series.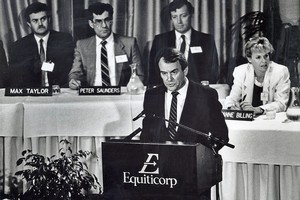 World War II had brought boom conditions to Auckland, despite the shortage of manpower, the multitude of regulations imposed by the wartime administration and difficulties with powerful unions, notably those representing miners, watersiders and carpenters.
The Labour Government got tough with the militants, and in 1949 deregistered the communist-led Auckland branch of the New Zealand Carpenters and Joiners Union, which had imposed a crippling go-slow on the building trade.
The Holland National Government took on the stroppy New Zealand Waterside Workers' Union two years later, forcing the unionists and their allies to capitulate after 151 days. This was during a boom, brought about by a spike in wool prices as a result of the Korean War.
National eased import controls, and rationing - introduced during the war - came to an end by 1953, but the framework of Labour's economic controls, including compulsory unionism and centralised wage-fixing, remained.
Import protection encouraged local manufacturing, making millionaires of businessmen lucky enough to obtain the necessary import licences. Auckland did well out of this command economy with Penrose, once a farming district halfway between the CBD and Panmure, becoming the country's largest manufacturing centre and producing goods as diverse as processed cheese, tyres, timber, cast-iron mouldings, whiteware, building materials, glass and plastics.
The manufacturers were organised and proud and in 1953 they joined forces with the Auckland Agricultural & Pastoral Association to create the annual Easter Show that would become their shop window.
Workers also did well out of the manufacturing boom. Jobs were plentiful, especially for unskilled school leavers or semi-skilled workers. Penrose became a mecca for agricultural workers seeking a wealthier life and for rural Maori, the poorest of New Zealand's citizens.
Overseas migrants also flocked to Auckland, many taking advantage of state-assisted travel. The largest group were British, although many Dutch and other European nationals arrived in increasing numbers in the 1950s.
From 1903 New Zealand had by statute favoured British imports by way of imperial preference (later Commonwealth preference). This was the nearest the British Empire got to imperial free trade. It was a two-way street and New Zealand was as dependent on exporting to Britain after World War II as it had been after the Great War.
In 1959 the Commonwealth preference for British goods was reduced and New Zealand for the first time started to develop an independent trade policy in the knowledge that one day Britain might join a European economic bloc. The first signs of this had appeared in 1951 when the European Iron and Steel Community was formed.
With this in mind, exporters started to look beyond traditional markets, not least Japan which, by the late 1950s, had emerged from wartime desolation to be the dominant trading power of the east. Within a decade New Zealand exporters were looking toward Japan to sell produce and goods and later, professional services. At the same time Australia was becoming a big market and would grow considerably after the New Zealand-Australia Free Trade Agreement was signed in 1966.
But if the 1960s were good for Auckland manufacturing, they were lousy for the meat industry which had had a presence in the region since the 1880s. Of all sectors, it was the most strike-prone. It was also the most antiquated with dirty, polluting plants - Westfield at Otahuhu and Southdown at Te Papapa were prime examples - and it suffered from poor marketing. After the oil shocks in 1973, when galloping inflation nearly wrecked the New Zealand economy, Auckland's meat-processing business largely disappeared.
The were other shocks Auckland had to deal with during the unstable 1970s.
In 1972 diversified investment group JBL failed, damaging the reputation of New Zealand's small entrepreneurial community. The group, which had started in 1956 as Jeffs Brothers Ltd at Ruawai on the Kaipara Harbour, had grown to 52 companies, including fishing, cosmetics and mineral exploration, and had offices in Australia and Japan.
It was about to move the corporate headquarters to London when it collapsed because of a shortage of working capital, poor investments and failed partnerships.
A government receiver took more than 25 years to untangle the finances and settle with the affected parties.
Chairman and managing director Jim Jeffs was jailed for his part in JBL's failure, serving six months, and his brother Vaughan was fined, along with four other executives, although the Court of Appeal quashed all convictions except those of the brothers.
JBL's failure was followed in 1974 by that of Wellington-based group CornishLamphouse, which had Auckland investments, and in 1976 by finance company Securitibank, the latter collapse leading the National Government to pass the Securities Act.
From 1978, tariff protection and import licensing started to be removed, leading to a decline in traditional manufacturing. The election of a Labour Government in 1984 sped up the integration of New Zealand in the global free market, notably after the floating of the New Zealand dollar.
The long-dormant New Zealand sharemarket took off but it was hopelessly flawed (not apparent at the time) with share prices and interest rates rising at the same time.
When Wall Street crashed in October 1987, New Zealand was affected more severely than other western countries. Auckland property and investment companies fell like ninepins as their predecessors had done during the Long Depression a century earlier.
In 1990, confidence was further damaged when the newly elected National Government was forced to spend $620 million to recapitalise the Bank of New Zealand.
The bailout - another case of 19th-century history repeating itself - the convictions of corporate offenders such as investment banker Allan Hawkins (fraud) and gold merchant Ray Smith (insolvency breaches), and disclosures that companies were using offshore tax shelters to avoid paying tax served only to harden public attitudes toward big business.