As Auckland merges to create a supercity, the Herald looks back at how Auckland has changed over the years. Click here to view the full series.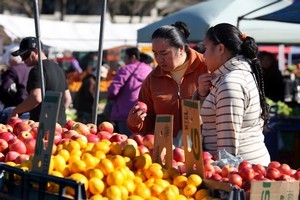 Pacific immigrants started moving to tree-less, amenity-less Otara in the 1960s, attracted by the area's cheaper housing and its closeness to nearby factories and freezing works.
But as more and more Pacific and Maori families moved into the area, more Pakeha families were moving out. In 1965, Pakeha made up 62 per cent of the population while Maori and Pacific made up 38 per cent.
Five years later, the proportion of Pakeha was down to 57 per cent. At some schools 90 per cent of new entrants were brown. (Today more than 79 per cent of Otara residents are Pasifika.)
The Lands & Survey Department had described Otara as an example of what not to do in a major housing development. It lacked community amenities,
kindergartens, trees, parks - and there was little to occupy the suburb's growing population of low-income children.
A Housing Commission report had noted that the State had "a special responsibility to Otara and Porirua where past State policies, although understandably adopted for pressing reasons have caused present community problems".
By the early 1970s, the Manukau City Council's City Planner was warning that Otara could develop into a wholly Polynesian city, while the Otara Community Development Association was making submissions to the Government asking it to treat Otara, "our first major multi-racial
community", as a special case deserving of increased funding.
It warned that the continued flight of Pakeha families from Otara "could develop into a form of apartheid by natural selection", and argued that "polarisation of a whole community within this most populated region of New Zealand is not in the national interest".
The association urged the Government to make amends for its poor planning by committing extra resources to making Otara "an enriched community" so that "people are giving up something to leave the district".
Otara needed more community workers, it argued, to act as home counsellors, help migrants feel at home in the community and solo mums to retrain, and to offer budgeting advice, and organise youth activities.
The association also asked for more kindergartens - recommending that each school should have a kindergarten attached to it - a community health centre, swimming pools adjacent to intermediate and secondary
schools, vehicle crossings to all state houses, more parkland (since two of Otara's parks had been swallowed up by schools), a local police station to promote positive community policing, a supply of trees, and housing for teachers, as reports then indicated that the policy of state
house allocation meant teachers couldn't get housing in the area.

Otara had developed into a low income community of one age-group because it had been pitched to the needs of young couples "who hadn't lived long enough to have acquired wealth".
As the Otara Community Development Association could see only too clearly, a community of only low-income people trying to make their way in an already under-resourced, poorly-planned suburb, had undeniable disadvantages, all of which contributed to a fertile breeding ground
for social problems.