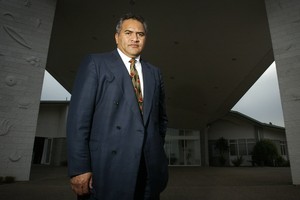 Waikato Maori will build two Whanau Ora centres as part of a plan to address poverty and under-achievement in the region.
The centres would be part of the iwi's initiative to strengthen relationships between Maori service providers, mainstream providers and government agencies.
Tainui Te Arataura chair Tukoroirangi Morgan told a meeting of about 100 senior leaders from the public and private sectors in Hamilton tonight that short-term funding and inadequate resources had failed Maori.
"Poor health, substandard housing, overcrowded living conditions, educational underachievement, high rates of imprisonment - these have been our lot for successive generations."
The Whanau Ora centres would bring all the social service agencies and providers together under one umbrella.
"Our goal is to build and strengthen relationships with and between tribal service providers, Maori providers, mainstream providers, government agencies and marae clusters," Mr Morgan said.
Tainui had undergone a dramatic economic transformation, which had provided the impetus for social change, he said.
The iwi this year reported a net profit of $18.6 million from its $644 million in assets, including property, fishing, forestry and farming.
Tainui is among 31 Maori health, disability and social service providers contracted under the government's new $20 million Whanau Ora scheme.
- NZPA