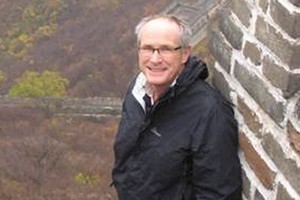 An old Army mate says Steve Morrissey's jungle survival training in Singapore and Malaysia will help him to survive in Hong Kong.
A search is continuing for Mr Morrissey, an Air NZ pilot, who disappeared last Wednesday while hiking in the New Territories.
"In the early 80s, Steve flew Iroquois helicopters in Singapore and Malaysia for two years with the Air Force, which required specific jungle survival training for that region, not just survival training in New Zealand," said the friend, who gave his name only as Tom.
"Hong Kong would have similar conditions, with heat exhaustion and dehydration being particular issues."
Tom, who was a helicopter engineer in Singapore at the same time Mr Morrissey was there, described him as "one of life's good buggers".
Mr Morrissey, a first officer, was walking on the Wilson Trail with colleague Mark Apperley.
Captain Apperley stopped for a breather, while Mr Morrissey went on ahead.
Yesterday, tracker dogs and abseilers joined a team of 200 in the search, which included the use of boats and helicopters.
A hat thought to belong to Mr Morrissey was found by one of the volunteer groups assisting with the search yesterday afternoon, TV3 reported.
Air New Zealand's deputy chief executive, Norm Thompson, said the focus remained on the Wilson Trail and the village at the end of the track.
He said police had indicated that they would continue the search today if necessary.
"Steve's family, Air New Zealand staff from the Hong Kong office and Steve's pilot colleagues on layover in Hong Kong have also been assisting."
Mr Thompson said pamphlets with Mr Morrissey's photo and details of his disappearance were being distributed around the area.
"Thank you also to everyone who has been sending messages of support. It is hugely appreciated by the team involved in the search for Steve and it is encouraging to know New Zealanders are thinking of them and also remain hopeful of Steve's safe return."