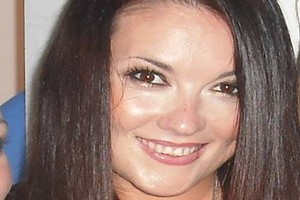 The ex-boyfriend of missing Auckland woman Carmen Thomas says their 5-year-old son misses his mother.
Speaking for the first time since the 32-year-old's disappearance more than a month ago, Brad Callaghan said he hoped police found her soon.
"Jack misses his mother," he told the Weekend Herald. "I have spoken to police at length and given them all the help I can ... I hope they are successful in finding Carmen as soon as possible."
Detective Inspector Mark Benefield said his team was "keeping an open mind", but things looked increasingly sinister.
He said staff had spoken to Mr Callaghan, who had provided "everything he knows about Carmen".
The couple have a joint-custody arrangement and Jack has been with his dad since Ms Thomas vanished.
The last recorded contact made by the South African-born escort was on July 3 - a text message sent to her boss at a Pakuranga gentlemen's club. She was reported missing on July 13 by friends when she failed to pick Jack up.
Mr Benefield said police had "to go through all [Carmen's] friends" and had a number of people to contact.
Ms Thomas's car was found abandoned in Hamilton on July 5 and it is understood the police hunt is focused there, where she often spent time at car rallies and rugby matches.
Photographs taken with All Blacks Ma'a Nonu and Anthony Tuitavake are among others on her Facebook page, but Mr Benefield played that down, saying she had been pictured with people from all walks of life.
"At this stage of the investigation, there's nothing sinister in the photos posted by Carmen on her pages."
Ms Thomas's mother, Teresa Scott, returned to South Africa this week after nearly two weeks in New Zealand. Police warned her that it looked like foul play. "We have been frank with Teresa and have acknowledged her worst fears - that the circumstances of Carmen's disappearance are sinister," said Mr Benefield. "We're disappointed we haven't been able to give her some closure or genuine hope but there are several phases of this investigation to go and we'll stay in touch with her as much as possible."
SINCE CARMEN THOMAS VANISHED
* June 25 Sighted at Newmarket Day/Night Pharmacy just after 6pm.
* June 27 Seen at Greenlane Countdown about 7.10pm. This is the last day her bank accounts are touched.
* July 3 Sends a text to her boss at Pakuranga gentlemen's club.
* July 13 Reported missing after failing to collect son.
* July 17 Police search her Remuera home.
* July 20 Police search the Orakei Basin behind her house; find nothing.
* July 23 Her mother, Teresa Scott, arrives from South Africa.
* Aug 4 Ms Scott returns to South Africa
Anyone with information on Ms Thomas's disappearance should contact police on 0800 KEPPEL (0800-537- 735), email whereiscarmen@police.govt.nz, or call Crime Stoppers anonymously on 0800-555-111.