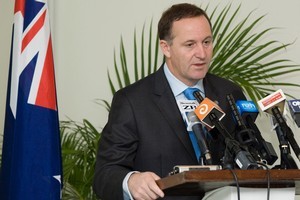 New Zealand's first combat death in Afghanistan is not a reason to withdraw our troops from the country, Prime Minister John Key says.
The Defence Force announced this morning that a New Zealand soldier serving with the New Zealand Provincial Reconstruction Team had been killed during a routine patrol in Bamyan Province.
Two other soldiers and an interpreter were injured.
Lieutenant Timothy Andrew O'Donnell, 28, was the first New Zealander to be killed in combat since Private Leonard Manning died in East Timor 10 years ago.
Speaking in Vanuatu where he is attending the Pacific Islands Forum this morning, Mr Key said the attack was in an area where skirmishes were not uncommon.
"It was quite clear that this has been a place where there's been a heightened level of activity, a degree of anxiety, and we need to monitor that situation carefully."
Mr Key said the military was reviewing its procedures, tactics and equipment for Bamyan but that he did not see the incident as a reason to withdraw from the province, or from Afghanistan.
He said New Zealand had been in Bamyan since 2003 and most of the province was considered to be relatively safe.
"Bamyan is I think an example of where we can hand back control to the people of Afghanistan.
"We have been working to make that a reality. It's not my view that we should withdraw quicker because of today's tragic events," he said.
"I think we owe it to the thousands of New Zealanders who have served in Bamyan in the last seven or eight years to see the job done and to be in a position where we can hand back control."
Mr Key said he was still considering whether a small core of SAS soldiers would remain in Afghanistan beyond March. That decision would be made by the end of the year.
He said there had never been any pressure from coalition forces for the SAS to stay longer than March.
"It's always been a initiative driven by our people themselves, and ... their concern is they don't want to have worked hard for what would have been 18 months, to walk out just before the job is completed."
He said he did not think he could make a judgement on the progress of the war based on one incident.
"One of the reasons why I indicated a few months ago there will be a slightly slower withdrawal, is because we were concerned about what was taking place in the north-east part.
"New Zealand remains committed to trying to ensure that Afghanistan is no longer a breeding ground for terrorism, and the work we have done there in terms of the Provincial Reconstruction Team and the SAS have played an important part in trying to restore that sense of order in Afghanistan. But none of us have ever underestimated the challenge, and nor do we so today."
Chief of the New Zealand Defence Force (NZDF) Lieutenant-General Jerry Mateparae also told media in New Zealand there would be no alteration to the Defence Force's commitment to Afghanistan.
When asked if the death of a New Zealand soldier in Afghanistan had been inevitable he said it was always probable that it would be "a likely outcome of the operation."
"My people are under no illusions that there is a big risk. If it was a benign place we wouldn't be there."
The group Global Peace and Justice issued a statement after the attack calling for the troops to be withdrawn.
"The government must bear responsibility for this death because our soldiers should not be there and never should have joined the invasion in the first place," it said.
"They should be brought home before any more body bags are needed."
The New Zealand Provincial Reconstruction Team
The New Zealand Provincial Reconstruction Team's (NZPRT) headquarters in Bamyan Province is Kiwi Base. To the south is the airfield while the main township and bazaar are located to the north of the base.
The sixteenth rotation of the (NZPRT), commanded by Colonel John Boswell arrived in Afghanistan in April and were expected to remain in the country for about six months.
The force works on maintaining security in Bamyan Province, and carries out frequent patrols throughout the area.
It also supports the provincial and local government by providing advice and assistance to the Provincial Governor, the Afghan National Police and district sub-governors.
The NZPRT also identifies, prepares and provides project management for NZAID projects within the region.
It consists of four liaison (LNO) teams supported by infantry, engineers, staff officers, communications and logistic staff.
The first NZPRT deployment to Afghanistan departed in August 2003 on a four month rotation.
New Zealand also has a small number of Special Air Service personnel serving in Afghanistan. In total New Zealand has approximately 140 personnel in Bamyan and about 70 SAS soldiers in Kabul.
- Derek Cheng, NZPA and NZHERALD STAFF