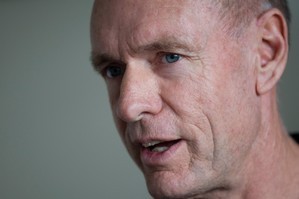 Chris Carter is "unbalanced" and under pressure over international travel costs, says senior Labour MP Trevor Mallard.
"He's always been a bit eccentric - we all knew that - but he's been a bit, what I would say, unbalanced," Mr Mallard told Radio New Zealand this morning.
Chris Carter has been suspended from the Labour Party after sending a confidential letter to the media which said Labour leader Phil Goff could not lead the party to victory at the next election.
Mr Mallard said he understood Mr Carter had travelled to Tibet without the permission of his party and the expenses were about to be revealed in the quarterly MP expenses release.
"I think Chris has been under quite a lot of stress to do with international travel and I think we've seen the fallout from that - the chase around Parliament - some pretty unusual behaviour," Mr Mallard said.
He said the Tibet travel costs could have been the "trigger" for Mr Carter's letter.
Earlier this morning, Mr Carter was asked about his trip to Tibet on Radio New Zealand but declined to answer.
"I'm not going to discuss international issues," Mr Carter said.
"It is neither here, nor there."
Mr Carter told the Herald that MPs and party activists all believe Mr Goff needs to be replaced as leader.
"I wouldn't have acted unless I knew that virtually the entire caucus know he cannot win," Mr Carter said last night.
Mr Carter said there was a sense of optimism that Labour might have a chance of getting back into Government in a coalition if New Zealand First did well, but not with Mr Goff as Labour leader.
"It would require skills of negotiation and communication which in my view Phil hasn't got."
Several Labour MPs could do better, he said. He would not name them, but ruled out any of those newly-elected in 2008.
Mr Carter was suspended from Labour's caucus in a unanimous vote for sending an anonymous letter to press gallery offices yesterday suggesting Mr Goff's leadership was in trouble.
His party membership will be discussed by the party council in eight days, but he is facing certain expulsion, not just for being found out over the note but for his public attacks last night on Mr Goff.
Mr Carter, a minister in Helen Clark's Government, vowed to stay in Parliament as MP for Te Atatu, meaning a by-election will be avoided before the election late next year.
Mr Goff and others in Labour are questioning Mr Carter's rationality.
But Mr Carter insists that everything he wrote in the anonymous letters was true.
He appeared confident in television appearances last night and expressed no regret.
He said Mr Goff would be confronted by union-based MPs next Tuesday over his comments supporting National's plan to let employees cash in the fourth week of holiday.
"Of course it was going to happen," Mr Carter said. "It's not going to happen now, of course, but it was going to happen."
He said in the letter that the issue had "brought to a head the growing discontent in the caucus with both Goff's leadership style and his poor polling."
"David Cunliffe has a big smile on his face and many in the caucus now expect a move against Goff and [deputy Annette] King before the election," the note said.
The note also said Manurewa MP George Hawkins was being challenged by a member of the Engineers Union.
Mr Goff called a press conference at 4pm after the caucus voted to suspend Mr Carter.
"My decision to suspend Chris Carter comes just weeks after I offered him a chance to rehabilitate himself following issues around his frequent travel and excessive expenses."
He demoted Mr Carter from the front bench and the foreign affairs portfolio, but had given him the conservation portfolio and the chance to get back in the fold.
"Today there are no more chances. Chris Carter's future in the Labour caucus has come to an end."
Mr Carter said he was still "100 per cent Labour.
"I still support Labour, I just want us to have a new leader.
"Phil's a nice guy, he speaks well, he is a hard worker but he is just never going to do it."
Mr Carter said he had sent the anonymous notes "to try to start up a momentum for a leadership change."
No one else knew he was sending the letter, but its motivation and sentiment were shared by others. He did not believe the controversy would kill momentum long term.
"This will certainly not have made it go away."
Mr Carter said a lot of people in Labour thought the support base for Prime Minister John Key was more fragile than polling showed.
And the likelihood of New Zealand First leader Winston Peters entering the fray was both a danger and an opportunity.
The danger was that it would dilute the anti-National vote, affecting Labour.
But Mr Peters would also join the attack on Mr Key.
New Zealand First polled 4.5 per cent in this week's Roy Morgan poll and rumours that Wanganui Mayor Michael Laws might join New Zealand First leader Winston Peters were not denied by either of them.
In Te Atatu last night, there were mixed views and some support for Mr Carter.
Te Atatu Discount Superette owner Samir Gandhi said he and his family would always support the MP.
"I voted for him and I support Carter, because he's Labour."
Te Atatu resident Lesley Rientsma said she supported the MP because of his work within the community.
"He's done so much good in the community and I think that's great. He's a good man. However I must admit he's fallen off the rails a bit lately and this last plot business is a bit bizarre.
"But if we were to have a by-election, I'd vote for him."
- With NZHERALD STAFF