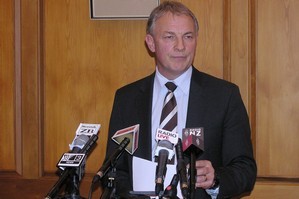 Disgraced Labour MP Chris Carter appeared on TV3's Campbell Live tonight, admitting that despite anonymously penning a letter aimed at undermining leader Phil Goff, he was happy to be found out.
"I guess in a way I was wanting to get caught," Mr Carter told host John Campbell. "I'm happy it has happened."
Mr Carter earlier told media that he didn't believe Mr Goff could lead Labour to a win at the next election.
"I no longer believe it's possible for him to win the election," he told reporters earlier this evening.
"I think I owe it to the people I represent and the people who voted for our party that we have a leader who can win the election."
He wouldn't reveal who he would like to replace Mr Goff on tonight's show, but denied he had ever had leadership ambitions.
"I always wanted to be Foreign Minister," he said. "I guess that's never going to happen now."
Mr Carter flew from Wellington to his home in Auckland this evening. It is believed he will make a formal statement about his future tonight.
"Look, Phil Goff is a very nice guy but he's just not going to win and his latest flip-flop over the tradeable fourth week... was the last straw for me," he earlier told reporters.
"Yes, I was attempting to get a momentum going where our caucus would think about a leadership change and I am hoping that my actions will cause some of my caucus colleagues to reflect on something which I think almost all of them would come to the conclusion: that nice as Phil is, he's just not going to win."
An urgent Caucus meeting was held this afternoon and a unanimous decision was made to eject Mr Carter over an unsigned letter he wrote aimed at undermining Mr Goff's leadership.
Whether he remains in the party is yet to be decided but a by-election in his electorate of Te Atatu is possible should Mr Carter quit Parliament.
This evening on Campbell Live, Mr Carter said he "absolutely" wanted to stay in his electorate as a Labour MP. "I'll be supporting Labour 100 per cent," he said.
Mr Carter's single-page letter to selected Press Gallery political editors said union-based MPs would challenge Mr Goff over his "relaxed" stance on Government plans to allow workers to cash in their fourth week of holiday which is against Labour policy.
Mr Goff immediately suspected Mr Carter because he recently demoted him for ongoing his excessive spending on travel, hotels and meals while a minister and in opposition.
Ironically the latest release of credit card spending was made today.
"I wasn't prepared to make any allegation until there was evidence, it was clearly evident from the handwriting on the envelope that it was Mr Carter's handwriting, that he was also seen down at the messengers' room this morning at about that time."
Mr Goff then confronted Mr Carter who initially denied but under further pressure confessed.
"It was stupid, it was disloyal. His actions... were calculated to damage the party and the leadership. That is unacceptable to me and my caucus," Mr Goff said.
"Chris Carter has no future in the Labour Party that I lead."
Mr Goff said he had tried to be fair to Mr Carter over his credit card spending and initial failure to front or apologise.
"Today there are no more chances... I can't pretend to understand why Chris Carter acted in the way that he did."
Questions have previously been raised about Mr Goff's future as leader given the party and his own poor personal polling.
In the letter Mr Carter wrote that "David Cunliffe has a big smile on his face and many in the caucus now expect a move against Goff and King before the election."
Mr Cunliffe has rejected that and ruled out a leadership attempt before next year's election and said Mr Goff had his "100 percent" backing.
Mr Goff said there was no tension over his leadership.
"This is an action of an individual on his own. He got no support and no sympathy from the Labour Caucus."
Asked about Mr Carter's state of mind he said: "I'm not a psychiatrist, I can't comment on that."
The Labour Party council would meet on August 7 and decide if Mr Carter could remain a party member. Mr Goff expected nominations for the electorate to be reopened after that. Mr Carter can remain in Parliament as an independent but if he quits a by-election will happen.
"If he chooses a by-election we will fight it and we will win it," Mr Goff said.
In his letter Mr Carter also claimed George Hawkins would be challenged for his Manurewa electorate seat by a member of the Engineering, Printing and Manufacturing Union (EPMU) before nominations closed on September 1.
"George is threatening a by-election and since the party is broke, there is panic in the ranks over this prospect."
Mr Hawkins was cagey about his plans: "Come see me New Year's Day when it's a lean news day and I will tell you".
He would not confirm if he knew whether there was an EPMU contender.
Mr Goff said Mr Hawkins was a "very good friend" who has served the party well and he was the only nomination so far and he had not heard of any contenders but that could happen in a democratic organisation.
"George Hawkins is the only nominee and George will make his own decision about his future in the labour party."
In a peculiar twist the letter was sent in an old airmail envelope with Office of Minister of Finance, NEW ZEALAND printed on it.
Finance Minister Bill English was asked about that and said it wasn't his stationery.
"Labour are starting to show the pressures of opposition. They'll start attacking their leader and being internally split. I think it will get pretty ugly."
- NZPA, NZ Herald staff