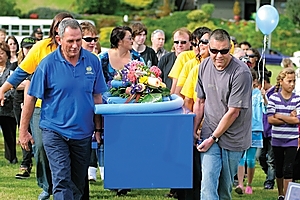 About 400 people turned out to pay their last respects to Moko the dolphin at his funeral procession and memorial service in Whakatane today.
Ngati Awa kaumatua Pouroto Ngaropo, who was involved in the negotiations between iwi and the Department of Conservation over the remains, said Moko's body was quietly escorted out of Palmerston North yesterday.
His body was taken to Iramoko Marae in Matata for the night, on ice and encased in a blue coffin made for him in Whakatane.
The casket, with a floral display on top and photos of Moko frolicking in the sea, travelled on the back of a truck through the centre of the eastern Bay of Plenty town to the Mataatua Reserve for a public memorial service featuring songs, poems and prayers.
After the service Moko was put on the Cascade charter boat for a final trip around some of his former favourite local bays.
Tomorrow he will be buried at Matakana Island near Mt Maunganui, where his body was found washed ashore on July 7.
Massey University pathologists in Palmerston North were unable to establish what caused the death of Moko, who had entertained - and in a few cases alarmed -- people since 2007 with his antics from Mahia in northern Hawke's Bay to Tauranga in the western Bay of Plenty.
Mr Ngaropo said that in tomorrow's private ceremony sand from the gravesite would be exchanged with sand from Mahia in a ritual, carrying Moko's spirit to Mahia.
- NZPA