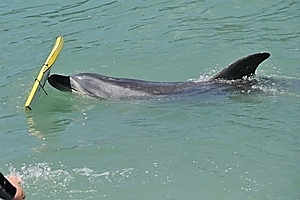 Moko's remains are to be returned to Matakana Island where the dolphin will be buried on the shore where his body came to rest, the Department of Conservation said today.
The Department of Conservation (DOC) last week admitted a decomposing dolphin carcass washed up on Matakana Island, north of Mount Maunganui, was "probably" Moko.
The bottlenose dolphin delighted thousands of people - and ruffled a few feathers - with his love of human company and playful antics in Mahia, Gisborne, Whakatane and Mt Maunganui.
The decision settles debate over Moko's final resting place with northern Hawke's Bay and Bay of Plenty both vying to host the dolphin's burial.
Moko's many admirers would have a chance to farewell Moko at a memorial service at Mataatua Reserve near Whakatane where his remains will be taken before being buried on the island, DOC spokeswoman Katrina Knill said.
"Moko will travel via Whakatane where all are invited to attend a memorial service for him at Mataatua Reserve, Wairaka near the Whakatane river mouth," Ms Knill said.
DOC's Tauranga area manager Andrew Baucke said the decision to bury Moko on the island was made after consulting with local iwi over the weekend.
"Given that Moko washed up on the shores of Matakana, we have been guided by Ngai te Rangi who have kaitiaki (guardianship) status for the island to come to this decision," he said.
"This is also consistent with our policy that local iwi have access to the remains of stranded marine mammals if they want it."
Ms Krill said exact timing and other preparations for the memorial and burial of Moko will be determined over the next few days,
The dolphin's carcass is at Massey University where marine mammal pathologists are still working to determine the cause of death.
Tissue analysis for the post mortem report was being worked through but an expected date for a final report was due soon, Ms Knill said.
Delays had meant DOC were yet to receive confirmation from Auckland University that DNA taken from the dolphin's carcass was Moko's, she said.
"Unfortunately due to the small sample size, this process will be more complex than originally anticipated and it may be as long as eight weeks before DNA results are available," Ms Krill said.
- NZPA