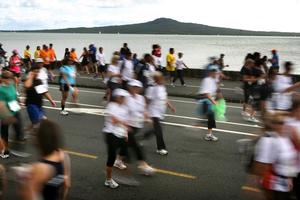 Cancer patients may benefit from seeking out new sources of mild stress, like joining a sports team, a ground-breaking study led by a New Zealand neuro-scientist suggests.
"People tend to think that cancer survivors should avoid stress, but our data suggest that this is not completely true," says Professor Matthew During, of Auckland University and Ohio State University in the US.
Lifestyle changes, especially doing more physically and socially challenging activities like team sports or social activities involving some competition and mild stress, were likely to have positive consequences for cancer patients.
The study, published as the cover story in the influential biology journal Cell, was conducted in Ohio with mice, but Professor During said it could have implications for human cancer patients.
It found that mild stress - from plenty of physical, mental and social stimulation - curbed tumour growth.
Mice with cancer who lived in "standard" housing in groups of five were compared with others living in groups of 20 in a much more spacious environment with more toys, hiding places and running wheels.
"It was an enriched and more complex physical environment as well as much larger social community," Professor During told the Herald from Ohio.
"After three weeks, it had a significant effect on cancer and after six weeks, a dramatic effect.
"The cancer size was 80 per cent smaller and 17 per cent of the animals had no tumours at all."
Some animals were put on running wheels to significantly increase their physical activity, but this did not reduce cancer rates, indicating the cause of the anti-tumour action was related to living in a more complex environment, not just increased physical activity.
Changes were found in the "enriched" group's immune systems and in the levels of a number of hormones, the most dramatic being the reduction in leptin - an appetite regulator - released from fat cells.
"There's a link between cancer and obesity. This is the first definitive proof that leptin mediates the cancer effect. We describe here a specific pathway of how the brain talks to fat to reduce the release of this hormone," Professor During said.
In this study, extra copies of a gene involved in weight regulation, BDNF, were implanted in the "less-stimulated" group, leading to 75 per cent tumour shrinkage.
He has previously established that BDNF implants reduce obesity in animals. He is trying to set up trials for severely obese humans and can now see benefits in extending this to obese cancer patients.
It could also be considered for cancer patients of normal weight, if their cancer outlook was poor, Professor During said, although he considered the findings on lifestyle changes were the study's most important.
The Cancer Society said people being treated for cancer had to be realistic about what activities they could maintain, because of fatigue and other physical effects.
Pressure to continue with usual social and work activities could add more stress, but retaining as much normality as possible could be beneficial. The society encourages patients to maintain their social and work connections to the extent possible.