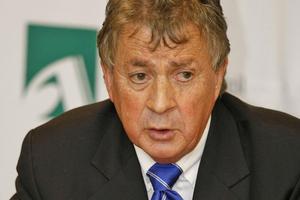 Earlier this week, Auckland Regional Council chairman Mike Lee couldn't resist pointing out to me that I'd changed sides in the great Queens Wharf sheds debate.
I wish I'd thought to quip back with the rejoinder he used at Wednesday's ARC meeting to explain his own change of tack.
"When the facts change, I change my mind. What do you do, sir?"
He was quoting the great economist John Maynard Keynes, responding to some smarty-pants reporter criticising his change of attitude to monetary policy during the Great Depression.
In public affairs, a willingness to change direction is a rare event, if for no other reason than the McCullys of this world are poised to monster anyone who does, regardless of the pros and cons of the change.
In my case, I'd returned from Sydney last July, inspired by the various waterfront developments in that great harbourside city, and walked back into Auckland's small-town row over whether to spend $120 million on strengthening Queens Wharf and converting the two old cargo sheds into a cruise ship terminal that could double as Rugby World Cup party central.
It was all so depressing that I let rip, demanding the cruise ships stay put on Princes Wharf and that the "crappy old corrugated-iron sheds" be replaced with a new structure "more befitting the premium space and the occasion" - Auckland's imminent civil union as one city.
Even now, if I thought some wondrous new and inspirational project was a likelihood any time soon on Queens Wharf, I'd lose no sleep if the sheds were recycled, either whole, or in pieces.
But in April, when the Government and the ARC agreed, subject to consultation with the Historic Places Trust, to spend $9.6 million building a temporary "party central" on the wharf which involved knocking down both old sheds for no good reason, that was just vandalism.
It meant that once the $9.6 million "slug" was dismantled, any possibility of incorporating the old sheds in the long-term redevelopment of the new "people's wharf" was lost for all time.
In Mr Lee's case, he was convinced by the arguments advanced by the Historic Places Trust that Shed 10 at least, which he had once called "cheap and nasty", was not only worth saving, but could be transmogrified into the cruise ship terminal that the ARC had its heart set on, and could also double as the party central the government desired.
And all for $17.8 million. It seemed like a win-win situation.
Cup Minister Murray McCully, and now Prime Minister John Key, seem unnaturally attached to the slug, even though the transformed Shed 10, as designed by architects Jasmax, has been lengthened to provide the same floor space as the slug - also a Jasmax design.
Yesterday, instead of telling his minister to grow up, Mr Key turned on the ARC plan too, suggesting he wants out of the Queens Wharf sandpit, and will take his party central to someone else's playground.
If he's happy to throw away $9.6 million of taxpayers' money on a temporary building somewhere else, that's his prerogative.
Already Auckland City Mayor John Banks is hinting of alternative sites he has up his sleeve.
The Viaduct Event Centre the council is building is an obvious contender. It's the right size, it's in a harbour-front position, and is near the waterfront restaurants and bars. Alternatively, there's the Vector Arena, a warm, snug and dry haven, that could be very attractive in late-winter Auckland.
If there's an upside, it's that without the hysteria surrounding the provision of a World Cup party venue, Aucklanders now have the chance for a more considered debate into the future of Queens Wharf. We can go back to square one, unpressured by the needs to accommodate party central.
The big elephant in the bed is, do we even want a cruise ship terminal on what Mr Lee has proudly dubbed the "people's wharf".
For example, if most of the summer months are going to be dominated by ocean liners berthed on either side of the space, how welcome - or safe - are strolling Aucklanders going to be.
Who knows, we might even come up with the wondrous new project of my Sydney daydreams.