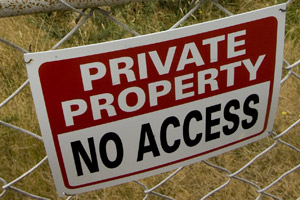 The New Zealand Walking Access Commission says it is producing a mapping system so that people can more easily find out where there is legal public access across land.
"The current system is complicated," said commission chairman John Acland.
"It's not easy for people to find information on where they can go on publicly-owned land, or who to contact to ask for permission to access privately-owned land."
The commission expected to complete the mapping project this year.
"That should make a difference," said Mr Acland, whose commission today released guidelines for access to the nation's beaches, waterways, and mountains.
"The lack of information has been a problem," he said.
The code was released at Parliament by Agriculture Minister David Carter.
Mr Acland, a former high country runholder, said the great outdoors was an important part of New Zealand culture.
The commission was expected to provide practical, enduring and guaranteed walking access to the outdoors that the public could enjoy at no cost.
"Our role is to promote, encourage and, where appropriate, negotiate public access on foot to rivers, lakes and the coastline, and to our forests, mountains and countryside," he said.
The guidelines, a code of behaviour, spelt out the need for people to behave properly and to take responsibility for their actions in the outdoors.
And the code also asked landholders to continue the traditions of New Zealand, which had seen it as customary for landholders to give access to people wanting to cross their land, though Mr Acland noted access across private land relied on landholder goodwill.
Mr Acland said rights and privileges of access brought with them responsibilities, and he urged people using the outdoors for recreation to respect the environment and the requirements of farming life.
New Zealand was an increasingly urban society, despite its economic reliance on agricultural products, and many people might be aware of rural customs and local practice or the possible adverse impacts of their behaviour.
"Respect for property rights is important - both the property rights of private landowners and the public's property rights," he said.
Statutory rights included:
* roads, including unformed legal roads, and much of the land reserved along water margins;
* marginal strips along rivers, lakes and the coast;
* public reserves: various kinds with a variety of access rights;
* other Crown land reserved from sale, depending on use of the land by the Crown;
* esplanade reserves, esplanade strips and access strips, though there might be restrictions.
There was no right of public access across private land, though there was scope for:
* easements or leases over private land forming part of walkways;
* other easements or rights of way providing for public access;
* esplanade strips; and,
* informal arrangements such as negotiated agreement for access to a fishing river or on a case-by-case basis.
Public access to some public lands or water bodies could be restricted for safety reasons, such as around the spillways of hydro-electric dams.
- NZPA