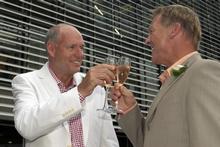 Labour's foreign affairs spokesman MP Chris Carter says he accepts leader Phil Goff's decision to demote him, but has not fronted media as he happily did on Thursday when credit card records for his time as a minister were released.
Mr Carter, along with other former ministers Shane Jones and Mita Ririnui, are to be demoted and lose portfolios after wrongful use of their ministerial credit cards while in office.
Mr Carter was repeatedly warned about appropriate use of his credit card but was still caught out misusing it. He paid for movies and a spa in hotels, repaid some money and says he will reimburse any other wrongful spending that is discovered.
On Thursday he visited journalists in the press gallery and promptly returned calls about his spending. Today his phone went unanswered and the only comment was a short statement which did not answer questions such as whether he will stand in next year's election.
"I fully accept the decision of Phil Goff in relation to my parliamentary roles," the statement said.
"It is time for me to draw a line: time to rededicate myself to the principal job of being the Member of Parliament for Te Atatu, and I will do this.
My constituents, Phil Goff and my Labour Party colleagues all have expectations of me - and so they should. I will work to ensure their confidence in me is well-placed.
"I will also apply myself to any responsibilities given to me with my usual energy and enthusiasm.
"I will make no further comment on this matter."
Mr Goff said he was yet to decide how far down the list to put Mr Jones and Mr Carter, who are ranked 11th and seventh respectively, while Mr Ririnui is already low on the order. Their replacements are likely to be announced tomorrow.
When Official Information Act documents were released last Thursday all three MPs were shown to have spent taxpayer money on items not covered under the rules. They made refunds from their own accounts.
- NZPA