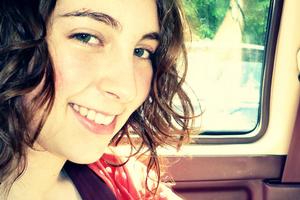 A woman who was at a bridge-swinging event last year when a Massey University student fell to her death broke down in tears as she gave evidence in court today.
Catherine Peters, 18, plunged about 20 metres on to rocks below the Ballance Bridge, near Woodville, while bridge-swinging with the Massey Alpine Club on March 7.
A rope meant to keep her secure was said to be too long, and she died of her injuries in hospital hours later.
Crag Adventures director Alastair Ross McWhannell, who had sole responsibility for the activity, has pleaded not guilty to her manslaughter and is on trial in the High Court in Palmerston North.
Crown witness Diana Tippett told the trial today she was doing work experience at the bridge-swing the day Ms Peters fell.
"It was just primarily clipping people into harnesses and watching and learning as much as I could," she said.
Ms Tippett said she was speaking with four women and McWhannell was helping another woman, who did not appear to be with the student group, when Ms Peters came up to do her second jump.
Ms Tippett said Ms Peters was wanting to do a "mafia drop", in which three people throw the jumper off the bridge.
"She was pretty excited and ready to go," she said.
"Once she got thrown off, I turned around to watch her swing, and I heard whooshing of the rope going through the rig and the thud of her hitting the ground.
"I then looked at the rig and it wasn't how it should be... it was slack and the knots weren't in the rope."
Speaking through tears, Ms Tippett described how McWhannell hurried down to the rocks with his cell phone, and how she later went to open a gate to let an ambulance into the area.
Ms Tippett said McWhannell told her "I'm the one that f**ked up, this has nothing to do with you".
In cross examination, McWhannell's lawyer Bruce Squire QC asked Ms Tippett if she recalled, following Ms Peters' fall, telling a student she was "so sure" that McWhannell had tied off the ropes.
Ms Tippett said she did recall the conversation.
"I was in a real state of shock. I think if you've seen someone tying the ropes off all day it can make your mind play tricks on you and make you think you saw things you didn't," Ms Tippett said.
She agreed McWhannell had been very concerned about safety at the swing.
On the five or six times her role varied to include tying off the rope on the bridge, McWhannell checked her work to make sure it was done correctly, she said.
Earlier today, two men who also helped with the swing on March 7 described the safety of the operation.
Saftwan Zairal said McWhannell was "very careful about safety aspects", and had told police the swing was "structured and organised".
Fionn Claydon, another witness for the Crown, said the system was "almost infallible" and the only thing that could go wrong was "human error".
The trial is set down for three weeks.
- NZPA