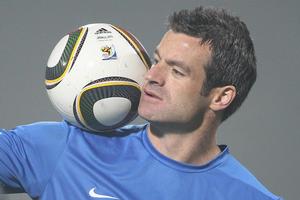 Prime Minister John Key will travel to South Africa to watch the All Whites play Italy in their soccer World Cup pool match this month.
Mr Key will also carry out official business - meeting South African business leaders and opening the High Commission in Pretoria.
The trip may include further official business, though the South African Government would be busy during the World Cup.
"The World Cup offers South Africa the opportunity to showcase itself as a nation and to build on those ties in much the same way as we hope to do when we host the rugby World Cup in 2011," Mr Key said today.
The All Whites play Italy, ranked fifth in the world, on June 20.
Mr Key said the All Whites qualifying for the World Cup captured the imagination of the country.
Mr Key is the All Whites' patron for the 2010 Fifa World Cup campaign.
"I've been fortunate enough to have met (coach) Ricki Herbert and the guys several times now.
"I know I speak for all New Zealanders when I wish them all the best for their World Cup matches," he said.
Mr Key said he chose to watch the Italy game as he thought the atmosphere would be good.
He hoped the All Whites would win at the World Cup, but they would be up against the best teams in the world.
Asked if the name `All Whites' could be misinterpreted in South Africa he said "the All Whites the All Blacks you're in trouble either way".
Mr Key's son, Max, will travel with him.
The All Whites also play Paraguay and Slovakia in pool matches.
- NZPA