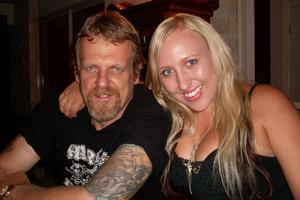 Friends and family of the New Zealand man shot dead in front of his daughter on the Gold Coast will farewell him at a service in South Auckland today.
Brent Dumper, 46, a former Waiuku antiques dealer, was killed at a housewarming party for his 22-year-old daughter, Jessie, on the last weekend of May.
His body was flown to New Zealand and a funeral will be held today in Papakura. He will then be laid to rest at Waiuku Cemetery.
Today's service comes after Mr Dumper was farewelled by family and friends in Beerwah, near Glass House Mountain in the Sunshine Coast hinterland, where he worked as a real estate agent.
Daughter Jessie paid tribute to her father on her Facebook page, saying: "Rest in peace, daddy. Will miss you so much. Still can't believe this has even happened."
Talking about the service in Australia, she said: "Had such a beautiful service for dad [on Saturday]. Thanks so much everyone for all your love and support."
After the shooting, members of Mr Dumper's family in New Zealand, including his mother, Anne, and sisters Michelle and Kelly, flew to Australia to be with his wife and children.
Another New Zealand expatriate, 36-year-old Bevan Carl Forsythe, has been charged with his murder and the attempted murder of another man who narrowly missed getting shot after trying to wrestle the gun from Forsythe.
It appears the shooting came after Mr Dumper and Forsythe argued earlier in the night, before Forsythe - whose house was next door to Mr Dumper's daughter - went home and returned with a gun.
Forsythe has been remanded in custody and will face a committal hearing in December.
In a tribute notice in the Herald, Mr Dumper's wife, Karyn, called him the "love of my life" and a loving father to Shane, Blake, Jessie, Katie and granddad to Kayleb and Jackson.
"My heart breaks that you were taken from me so suddenly. I know you loved me and you will always be in my heart forever. Until we meet again, rest in peace my honey."