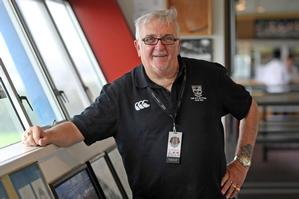 Gidday, it's your old knight, the Mad Butcher.
Peter Leitch - New Zealand rugby league's biggest and loudest fan, the working-class boy from Wellington and, more recently, cancer battler - today becomes one of six knights in the Queen's Birthday honours list.
Sir Peter - aka the Mad Butcher - describes the knighthood as striking a blow for the working class.
"I'm not a guy that sits in a 20-storey building and looks down on them. I genuinely think this is a blow for the ordinary man.
"I accept this award for all the little people who have backed me over the years, be it coming into the shop to buy a bit of meat or helping me at charity functions. It's an award for the people, to be fair."
Sir Peter, 66, is joined by All Black coaching great Fred Allen, film genius and Oscar winner Richard Taylor, businessman David Levene and philanthropist Graeme Douglas as knights. Justice John Williams becomes an Additional Knight Companion.
Dame Temuranga Batley-Jackson - better known as June Jackson - is created a dame companion.
Sir Peter - a larger-than-life character noted for punctuating his speech with "mate" and "to be fair" and letting drop the f-word now and then - left school at 15 having battled dyslexia.
As well as learning a trade by working in a butcher's shop, his early jobs included being a telegram delivery boy and a gravedigger.
"When you're a working-class boy from Newtown, a knighthood is pretty special," he said.
He reckons he has missed "just one or two" Warriors games at Mt Smart Stadium since 1995. At least one of those was during a trip to Croatia two years ago with his wife, Janice, to visit her grandfather's home. The trip of a lifetime just happened to coincide with his beloved team's run to the NRL playoffs.
"My phone was going all the time, mate, with texts from people back home and I was getting a few looks on the bus which were not appreciated.
"I thought we were not going to make the playoffs and of course we made the bloody playoffs ... It eventually made the news in Australia, mate: The Warriors are in the playoffs and the Butcher's not there!"
Sir Peter's passion for league is matched perhaps only by his extensive charity work, and officially he is being knighted for his services to business and philanthropy.
Sir Peter - "one of the most remarkable networkers in the country", in the view of former Prime Minister Helen Clark - has helped to raise millions as an ambassador for Allergy NZ, the Prostate Cancer Foundation, Diabetes Auckland and Macular Degeneration NZ.
His most recent effort, a dinner with master NRL coach Wayne Bennett in Auckland on Friday, raised $113,000 for the charities - the latest in his contributions since he began supplying meat packs and player-of-the-day prizes for the Mangere East Hawks Rugby League Club more than 40 years ago.
"I've always felt it important to give something back to the community, mate - always will."
It was as founder of the Mad Butcher chain, started in Mangere more than 40 years ago, that he made his name.
Sir Peter, who sold the chain in 2007 but has stayed on as brand manager, was upbeat yesterday despite revealing he is undergoing treatment for bladder cancer.
When his biopsy was taken in February he was arranging donations for a 22-year-old woman who had advanced melanoma.
"As the iconic New Zealander Sir Edmund Hillary said, hopefully I can knock the bastard off and stay living," he said. "Life is very important, my friend ... I hope to be around for a few years yet."
Despite being Vodafone Warrior No 19 - the number has been permanently retired, in his honour - Sir Peter is also a fervent fan of other codes.
"First and foremost I'm a New Zealander, mate, and I love all sports."
DAME COMPANION OF THE NEW ZEALAND ORDER OF MERIT
* Temuranga Batley-Jackson QSM, Manukau, for services to Maori.
KNIGHTS COMPANION OF THE NEW ZEALAND ORDER OF MERIT
* Frederick Richard Allen, OBE, Whangaparaoa, for services to rugby.
* Graeme Bruce Douglas, MNZM, Auckland, for services to philanthropy and athletics.
* Peter Charles Leitch, QSM, Bucklands Beach, for services to business and philanthropy.
* David Raymond Levene, OBE, North Shore, for services to business and the community.
* Richard Leslie Taylor, ONZM, Wellington, for services to film.
ADDITIONAL KNIGHT COMPANION
* John Hugh Williams, Waitakere, for services as a judge.
- additional reporting by NZPA