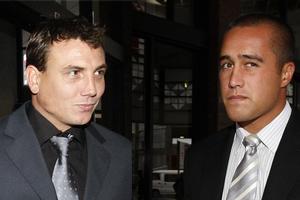 Several friends allegedly attacked by three off-duty police officers were trying to "peace-out" the situation, a court has been told.
Prosecution witness Michael Spencer told Auckland District Court yesterday that Patrick Garty, 32, Wiremu Bowers-Rakatau, 21, and another man assaulted two of his friends after an altercation outside a High St bar.
The friends had been playing with a supermarket trolley left on the side of the road which the three men, later identified as off-duty police officers, confronted them about.
The three then followed the group to their friend's apartment and forced their way into the foyer. Garty punched Ben Palmer three or four times in the head, and Bowers-Rakatau kicked another of his friends, Mark Clelland, repeatedly in the knees, Mr Spencer said.
"The whole time we were just trying to peace-out the situation," he said.
Garty's lawyer John Anderson put to the witness that the officers were responding to the dangerous way in which the group was playing with the trolley, near large glass windows. What the witness described as aggressive behaviour was police officers being "authoritative", he said.
The group had provoked the officers, telling them to "piss off" and making rude gestures. Garty had been pushed into the foyer and was punched; any physical contact he had made had been in self-defence, Mr Anderson said.
The witness had told the court no one had hit the officers, contrary to his initial statement to police.
"Wouldn't [your initial] account be more accurate?" Mr Anderson said.
Bowers-Rakatau's lawyer Kevin McDonald said his client had been defending Garty.
The third police officer, Chris Renata, will be tried at a later date.
- NZPA