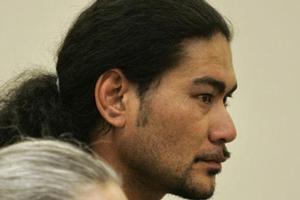 A jury has found a 35-year-old man guilty of raping a 13-year-old girl in west Auckland and forcing her to smoke cannabis.
Aukusitino Fa'atafa was found guilty in the High Court at Auckland today of sexual violation by rape, forcing the victim to smoke cannabis to render her incapable of resistance, sexual violation by unlawful sexual connection and detaining the girl with intent to have sexual connection.
A fifth charge of sexual violation by unlawful sexual connection was dropped by the Crown earlier in the trial.
Fa'atafa pleaded not guilty to all charges when the trial opened last Monday. He was remanded in custody and will be sentenced on June 25.
Justice Peter Woodhouse asked for pre-sentence reports and thanked the jury for their time and efforts.
"I'd like to thank all of you for performing this duty. It's a really important service for the community as a whole with real responsibility, and I do understand what was involved," he said.
Speaking to NZPA outside court, Fa'atafa's lawyer Mele Tuilotolava said it could have gone either way.
"It was a straight down the middle summing up, and my client is obviously very disappointed.
"This type of offending seems to be rife in our community so there is strong public opinion, which makes defending a case like this very difficult," she said.
The girl was attacked in April last year in the Pt Chevalier-Waterview area in west Auckland, after she was followed by a man for about a kilometre to a BP station on Great North Road in Waterview.
After shopping at the service station and walking back along Great North Road, she was dragged into the Oakley Creek walkway, and subjected to a prolonged sexual attack.
- NZPA