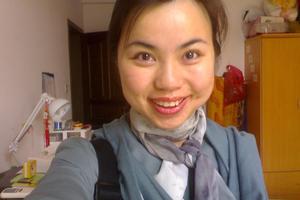 The Air New Zealand Chinese flight attendant who sparked an outcry over pay disparity between Chinese and New Zealand flight crew has been told by the Employment Relations Authority that she has no case for personal grievance.
Chao Zeng, who lost her job with the airline in 2007, had claimed in 2008 that Shanghai-based flight attendants were paid less than a quarter that of their NZ colleagues and given only a third of the allowances their Kiwi counterparts got.
Miss Zeng claimed her New Zealand work permit was revoked before she could resign from her Air New Zealand job.
After considering submissions from Miss Zeng's advocate Tuariki Delamere and Air New Zealand, the Employment Relations Authority said Mr Delamere had not raised the issue of personal grievance "whether for unjustifiable dismissal or any other kind".
Mr Delamere's submission to apply for leave to raise grievance out of time was also thrown out.
"I find the applicant's delay in lodging/raising her purported grievance was not occasioned by exceptional circumstances. I therefore decline to grant leave," said authority member Leon Robinson in his determination document.
"There is nothing in those submissions which persuade me of any foundation to consider granting leave."
Ms Zeng, originally from Shenzhen, first came to New Zealand as an international student and applied to work for Air New Zealand after graduating with a business diploma.
The airline started employing Chinese staff when it started its direct flights to Shanghai in November 2006.
Miss Zeng had complained about the salaries and working conditions of the airline's Shanghai-based flight attendants.
Air New Zealand, which is 76 per cent owned by the Government, said the Chinese crew were employed by a company in China, and were only seconded to work for the airline.
"Air New Zealand Ltd maintains it never employed the applicant. It pleads that the Beijing Airline Service Corporation [Fasco] employed the applicant," Mr Robinson said.
"It further pleads that Fasco terminated the applicant's employment on 8 August, 2007."
Miss Zeng has until June 21 to challenge the authority's determination in the Employment Court.