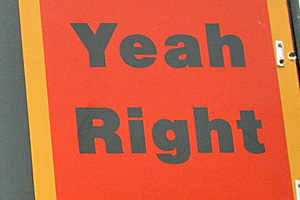 DB Breweries has warned a small Tauranga church it is trespassing on hallowed ground by erecting a sign similar to its Tui "Yeah Right" billboards.
Six weeks ago Bethlehem Community Church put up the sign reading "Atheists have nothing to worry about! Yeah Right", but not long after received a call from DB's lawyer, said Reverend Jim Wallace.
The church had been running its "Yeah Right" billboard for about eight years which included statements such as "I never sin" and "Everyone goes to heaven", but had only heard from the brewery since the last sign went up, he said.
"It's using classic Kiwi sarcasm," Mr Wallace told the Bay of Plenty Times in 2004 when a sign reading "Jesus was just a man. Yeah Right" was erected in Bethlehem.
Mark Davidson, DB's marketing head at the time, told the paper he saw the lighter side of the billboard but that it was a trademark infringement.
Mr Wallace said today he did not believe "Yeah Right" could be trademarked as it was a New Zealand colloquialism, and instead of the Tui logo his billboard featured a dove with the word "Spirit" beneath.
It did not denigrate DB in any way, he said.
Mr Wallace said he was prepared to apologise "on national television" if the church had offended the brewery.
"I think it shows the church has a sense of humour but when it comes to breweries, they just care about making money."
But DB Breweries communications manager Jo Jalfon denied the company was being heavy-handed. Its lawyer had simply rung the church to inform it of the laws surrounding trademark, which covered the "look and feel" of the billboards, such as the phrasing and colours, she said.
"We do have a sense of humour. We created the billboards in the first place."
The Tui brand had a strong and loyal following, but unfortunately a number of individuals - including other churches - were increasingly adopting the format to promote their own message, she said.
DB, which had not been approached by the church, was only following standard business practice of protecting its brand, which had been around for well over 10 years, said Ms Jalfon.
Some people believed the imposters were actually Tui billboards. "Ultimately, you can't have people going around all the time using your trademark."
Ms Jalfon did not see it as DB not letting God get away with it. "We don't want to get involved with religion, it's a very personal thing."
She said she hoped the situation could be resolved amicably.
- NZPA, BAY OF PLENTY TIMES