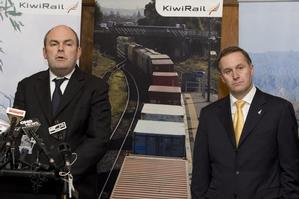 A three-year, $750 million commitment by the Government to strengthen KiwiRail is not enough in comparison to the huge amount already committed to roading, says Labour's transport spokesman Darren Hughes.
The Government has committed the first $250m in Thursday's budget to kick-start a long-term plan to improve KiwiRail to a point where it can become fully self-sufficient and profitable in its freight and passenger carrying services.
Prime Minister John Key and Transport Minister Steven Joyce said KiwiRail would need to assure the Government and taxpayers that the money was going in the right direction, and with the main trunk-line likely to be the main target, some of the minor ones could end up being mothballed.
The 10-year "turnaround" plan would cost an estimated $4.6 billion, but the "lion's share" of that would come from profits generated from the business itself following the kick-start.
"The plan aims to see the KiwiRail group become within 10 years a sustainable freight-based business that is able to fund its ongoing operating and capital expenditure from customer-generated revenue," Mr Key said.
Mr Hughes said his main concern was that $11b was about to be spent on roads in the next few years, while only a fraction of that amount was earmarked for rail.
"I think that is a mistake when you consider that the freight taskforce in New Zealand is about to double," Mr Hughes said.
Stakeholders in minor lines such as Napier-Gisborne, the Far North, northern Wairarapa, and Stratford-Okahukura (Taranaki to King Country) are discussing the prospect of keeping those lines operable, but that will depend on their financially stability.
Mr Hughes said there should be enough money going into the network to ensure such lines were kept open, "because closing off, for example, the northern Wairarapa line takes away chances for the main trunk-line when there are derailments and so on. And I think we need to be looking at how we move freight from, say Gisborne on the east coast, to Napier port."
Opportunities would be lost with closures of small lines, as once they were closed it was hard to bring them back on.
Others, including Green Party transport spokesman Gareth Hughes and the Council of Trade Unions (CTU), welcomed the funding commitment but said it had its pitfalls.
"It's some rare good news when it comes to public transport and different transport options," Gareth Hughes said. He also said there was concern about the prospect of minor lines shutting down.
"We found at Rotorua that when you shut down a rail line and want to reopen it, essentially it gets stolen - it's too expensive to reopen - so for the future-proofing of our transport infrastructure, we need to keep these lines open."
CTU secretary Peter Conway said it was pleasing to see the Government intended retaining and investing in the rail network, but the amount was only a fraction of what was needed.
He said it was also pleasing to see a strong push for local participation in KiwiRail's plan to get new locomotives and rail-cars built and put on Auckland's metropolitan network.
The Government will provide a loan of up to $500m for the build project, the bulk of which is expected to be undertaken off-shore.
Act Party leader and Government partner Rodney Hide echoed comments made by Mr Key this morning that Labour paid far too much when it bought KiwiRail back from Toll Holdings in 2008 for $690m.
"We're stuck with it aren't we," Mr Hide said. "That's the difficulty we have now with KiwiRail.
"We haven't got too many options, that's the reality. It's be nice to be able to off-load it but unfortunately I'm not sure anyone would buy it, it's now a big liability."
Mr Hughes said he hadn't seen much enthusiasm in general from the Government when it came to rail and wouldn't be surprised if the Government still had an intention to sell KiwiRail at some stage.
- NZPA