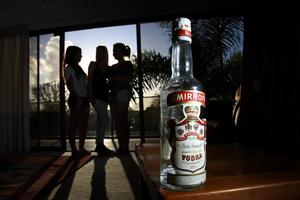 Teens fib - just as their parents did - but the alcohol is a lot stronger
Today's teenagers are coming out with the same fibs their parents told to cover their boozing, but they are drinking high-potency "lolly" drinks with the sole aim of getting "trashed".
The Weekend Herald interviewed dozens of teenagers following the death of 16-year-old King's College student James Webster, who apparently overdosed on vodka last weekend.
Most of their stories bear a resemblance to the circumstances leading up to James' death - the age-old tactic of telling a white lie to their parents for a night drinking.
Most said they had been drinking regularly since they were 13 or 14, while some had been drinking from intermediate.
Students are getting alcohol from either their parents (without their knowledge) or getting relatives or people aged over 18 to buy it for them.
Girls said they preferred "lolly drinks" - pre-mix vodka such as Cruisers, which cost about $28 for 12 bottles.
They drink about four or five of them to get "buzzy" or "tipsy", and about eight if they want to get "wasted".
They usually say they are going to stay at a friend's place or "going to a sleepover".
Most do stay at the friend's place, but usually the friend's parents are more relaxed than their own and allow them to drink. Others said their parents didn't care.
Most attend house parties where the homeowner either doesn't mind or doesn't know.
Boys are drinking Cody's pre-mixed bourbon and cola because, at about $25 for a dozen 250ml cans at 8 per cent alcohol, it's cheap and gets them drunk quickly. Others prefer Woodstock (about $36 for a dozen 440ml cans at 8 per cent alcohol). Buying bottles of spirits to mix or drink straight is rare because it costs more.
Wellington region emergency medicine specialist Dr Paul Quigley, 43, has conducted interviews with patients arriving in hospital because of alcohol overdoses.
He notes a change in the drinking habits of young people in recent years.
"In our peer group, our task was to drink heavy but also long ... if you were the one that seemed to be able to consume large amounts but then didn't fall over, you were a bit of a legend, whereas now it's changed. It's like: 'It's so cool because I was the first wasted' - the first to chuck is the winner."
Dr Quigley has seen a surge in unconscious drunk people needing treatment since 2005 and believes the alcohol percentage of some drinks is a factor.
Brendon Crompton, a former police officer who is the national manager of community youth programme Blue Light said teenage drinking merely was a symptom of a widely accepted culture.
"Here we are as adults saying it's really bad for the kids to do this when adults right across New Zealand are doing it. You get 20, 30 or 40 people together at a conference and 90 per cent of them are smashed off their face.
"I think it's very hypocritical most Kiwi adults saying it's a terrible thing. The kids are just reflecting what is an accepted culture.
"When I binge drank when I was younger, it was beer. That was pretty well all we could get our hands on ... the problem with these kids is they can get such massive volume into their body.
"It's just kids reflecting what we do and the difference is the variety of alcohol and the strength of alcohol is what's changed."