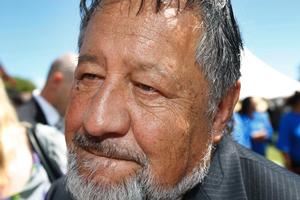 Maori Affairs Minister Pita Sharples has welcomed an apology from the New Zealand Rugby Union (NZRU) over past treatment of Maori rugby players, but has criticised the union's Maori appointees for advising against it.
NZRU acting chairman Mike Eagle and chief executive Steve Tew issued a statement today on behalf of the union.
"We wish to say sorry first and foremost to those Maori players who were not considered for selection for teams to tour South Africa or to play South Africa," the statement said.
The apology follows one from South Africa's Sport and Recreation Minster, Reverend Makhenkesi Arnold Stofile, to Maori players who were left out of tours to the republic in 1928, 1949 and 1960, and ongoing public pressure in New Zealand, but goes against advice from the NZRU's Maori advisory board.
The South African Rugby Union has also issued its own apology.
Dr Sharples said the South African apology was genuine and targeted not only the black South African and Maori players who were affected, but also the pakeha All Blacks who stood down in support of those players.
He said he also accepted the NZRU apology was genuine and pleasing, but was critical of the Maori representatives who advised against it on the grounds it might have the effect of unfairly condemning past Maori administrators.
"What it does show is that the Maori advisory board on the rugby union, as we thought, have no teeth at all," Dr Sharples told NZPA. "Because twice they have declined an apology...so here we are with the rugby union going over the top of them and making this decision".
Dr Sharples said it suggested those who advised against an apology were conservative and out of touch with the wishes of the Maori people.
He said the situation indicated that it might be time to review how the Maori advisory board was appointed. "This happens when you get other organisations appointing Maori to represent Maori views."
The apology was also welcomed by the Green Party, which has current MPs who were heavily involved in historic anti-apartheid protests.
The party's foreign affairs spokesman, Keith Locke, who was a participant and organiser of protests from the 1960s, said the apology ended a shameful chapter in the history of New Zealand rugby. Two other Green MPs, Catherine Delahunty and Kevin Hague, were also actively involved in protests during the 1981 Springbok tour.
Mr Locke said he appreciated the parallel apology to Maori from South Africa.
"The contrition will be much appreciated by those kiwis, both Maori and non-Maori, who protested at the time." About 160,000 New Zealanders signed a petition opposing the exclusion from the 1960 tour and Howard Morrison sang the famous protest song, My Old Man's an All Black, Mr Locke said.
He called for recognition from National and Labour "of their own parties failings in dealing with the repugnant policies of apartheid-era South Africa".
Former All Black Bill Bush said he was not surprised that the union reversed its stance and apologised during Maori rugby's 100th anniversary, saying "it had to come".
"It's great. It's healed a lot of grievances. We've put it behind us now ... it always just drove a wedge in Maori and pakeha relations," Bush said.
But he was a little disappointed that the apology had not been made in Parliament, when the union had had the chance two months ago, Bush said.
Former All Black Waka Nathan, who was a young member of the Maori All Blacks when Maori were excluded from a South Africa tour in 1960, said an apology was the "right thing to do".
"I thought it was very good indeed, for New Zealand especially - we have always been against apartheid. It never even entered our minds," Nathan said.
However, not all former Maori rugby players were so charitable about the NZRU's actions.
The NZRU merely "towed along behind South Africa" to make a "token" apology to Maori this morning, says a player who missed out on his best chance to make the All Blacks due to racially-based selection policies.
"Whether the apology is genuine or not is a matter of opinion ... but personally those were my best years," said Bill Wordley, a former New Zealand Maori hooker who was denied the chance to compete for a place on the All Blacks in 1960.
"I even got a letter that came out of the rugby union saying 'you won't be considered for the trials'. [Then] you might as well kiss it goodbye," Wordley said.
"My best chance was about that period. I might never have made it but I had a chance. I didn't get the chance.
The NZRU apologised to the families of excluded Maori players "and to the wider Maori community who were affected directly or indirectly by the decisions taken to not include Maori players for those teams and tours.
"It was a period in which the respect of New Zealand Maori rugby was not upheld and that is deeply regretted."
Malcolm Mulholland, a historian who has written on the issue, said he had talked with all eight families directly affected by the racially-based selection policies last night, and most were grateful for the apology.
They would be organising a hui in Gisborne, where Maori previously welcomed the Springboks, inviting the two rugby unions and two Governments.
"The only thing [the families] did say was it would be good to get it face-to-face ... I definitely think it will happen," Mr Mulholland said.
"The apology itself is significant but the final chapter will come as they come to the hui. It's all done in good faith. It's just an opportunity to shake hands and put it past."
The public pressure for an apology because "pretty obvious" and it was a no-brainer, he said.
- NZPA and Michael Dickison