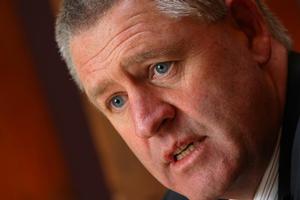 Rugby officials hope a sorry chapter in New Zealand-South African relations will be consigned to the history books after formal apologies were issued today for Maori players denied selection during the apartheid era.
The New Zealand and South African unions released simultaneous apologies following months of growing pressure to put the apartheid question behind them.
The statements came nearly a week after South Africa's Sport and Recreation Minster, Reverend Makhenkesi Arnold Stofile, sent a public letter of apology to Maori players who were left out of tours to that country in 1928, 1949 and 1960 because of South Africa's apartheid policies of the time.
The New Zealand Rugby Union (NZRU) previously resisted calls for an apology, citing advice from the New Zealand Maori Rugby Board which felt it was unnecessary.
However, it changed its mind upon learning the South African Rugby Union (SARU) was to apologise, and discussions between NZRU chief executive Steve Tew and South African officials at an International Rugby Board gathering in London led to the two organisations issuing their apologies simultaneously.
Tew today said from London that the entire issue was very complex.
"It is even more complicated in South Africa where the very people who are apologising now were victims of the regime that they are apologising for. They had a degree of urgency because they had some political pressure from their government to get on and do it.
"This has never been a straight forward issue. It's once of the most complex issues that our country has dealt with in my lifetime. Frankly, there's probably never any 100 per cent right or wrong approach to it.
"But we do believe it is right now to make this apology and to make it to the whole country."
Even in issuing the apology the NZRU was still criticised by former All Blacks prop and Maori player Billy Bush and long-time apartheid activist John Minto for not doing it at a Parliamentary function held in Wellington in March to launch the Maori rugby centenary season.
Tew responded by saying the Maori Rugby Board's advice at that time was against it although he was open to a suggestion from Minto that an apology be made in the presence of Maori players.
"I guess it's better now than even later. New Zealand rugby has often been, as I see it, 20 years behind the times in many of these areas," Minto told Radio New Zealand.
"The one disappointing feature is that it is made by a media release rather than at a function where the Maori players and Maori representatives could have heard it directly from the NZRU."
The Maori centenary season is to feature matches next month against the New Zealand Barbarians in Whangarei, Ireland in Rotorua and England in Napier.
Tew said it was most probable that at each of the functions around the centenary games "mention will be made of this apology in a room full of Maori players, both those who were affected and those who weren't".
NZRU acting chairman Mike Eagle stressed that the Maori Rugby Board was at no stage against the issuing of an apology.
"The Maori board originally did not want to take the focus away from their centenary year and also didn't want their past administrators to think any blame was being apportioned to them because of this apology.
"At no stage were they against it; the timing just wasn't right in their opinion.
"The public reaction around this apology certainly created more harm than good and it could have escalated during the centenary year."
- NZPA