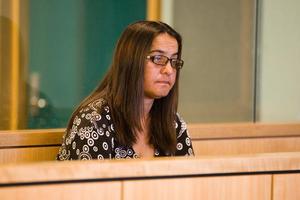 An Auckland woman accused of murdering a three-year-old boy in her care broke down in tears as she heard evidence about his head hitting a "hard unforgiving surface".
In a retrial at the High Court at Auckland today, Patricia Angela Pickering, 38, pleaded not guilty to murdering Dylan Hohepa Tonga Rimini, two charges of causing him grievous bodily harm, and one of assault.
The original trial in February was aborted after four weeks because a key medical witness was too ill to give evidence.
Dylan died in Auckland's Starship Hospital in April 2008.
Defence counsel Frank Hogan told the court there was another side to the story which could be summed up in seven words.
"This is all one big, terrible mistake."
He said they were the words Pickering said to police when she was charged with murder of her adopted son in September 2008, he said.
It was a mistake on the part of the police and the Crown to bring the charges against her, he said.
Pickering rang 111 on April 16 2008 because her infant son was "desperately ill", Mr Hogan said.
When asked by the ambulance officer what had happened, Pickering told him the boy might have fallen from a trampoline.
Pickering was in a relationship with Douglas Hoeta, who was a domineering and violent man, who imposed exact standards on the household, Mr Hogan told the jury.
Pickering and Mr Hoeta adopted Dylan in March 2007.
"The mistake Patricia Pickering made was to ask her brother Adam Pickering, who came to the hospital, if he would say that Dylan had fallen off the trampoline a few days before," Mr Hogan said.
She was worried about what Mr Hoeta would say about the boy's injuries as he was very vigilant with her concerning Dylan's care, the jury was told.
"There is an absolute denial of any offending by the accused," Mr Hogan added.
Earlier prosecutor Phil Hamlin said the trial was about the unfortunate relationship between the child and the accused.
"During the last 12 months of his life, Dylan lived with Pickering at an address in Drury (south Auckland).
"He was regularly beaten and eventually he was killed in that same home."
Mr Hamlin said Pickering caused Dylan a serious head injury and a broken rib and finally his death, just after his third birthday.
The accused made a 111 call on April 16 2008, as Dylan was limp, pale, unresponsive and breathing irregularly.
"He had suffered a traumatic head injury. His head had hit a hard unforgiving surface with such violence from the impact that it caused immediate disablement.
"By the time the ambulance came it was too late.
"There was only one person who could have been responsible and that was the accused."
"She also caused him earlier injuries and the household had degenerated to the extent where Dylan was in a very unfortunate situation," Mr Hamlin said.
Pickering's trial before a jury of seven women and five men has been set down for five to six weeks.

- NZPA