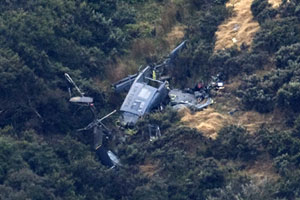 The wreckage of the Air Force helicopter on the side of a hill in Pukerua Bay, north of Wellington. Photo / NZPA
Three people are dead after an Air Force Iroquois helicopter crashed north of Wellington and a fourth is in hospital with serious injuries.
The helicopter came down early this morning at Pukerua Bay, near the Paekakariki Hill Road.
It was travelling from the RNZAF's base at Ohakea to Anzac Day commemorations in Wellington.
Wellington Westpac Rescue Helicopter operations manager Dave Greenberg said a paramedic was winched into the helicopter crash site.
"At that point we didn't know if anyone was alive," Mr Greenberg said.
He said the injured man was found and winched into the rescue helicopter before being taken to a nearby ambulance and transported to Wellington Hospital.
Mr Greenberg said the paramedic then was able to confirm the three others were dead.
"The helicopter is upside down. I would say it went in pretty hard," he said.
Two Iroquois helicopters are in the air, circling the crash site.
Central police communications shift commander Stephen Ross said four people were on board at the time of the crash.
He could not say if all were Air Force personnel.
Mr Ross said police got the call at 6.45am but he was not sure what time the crash happened.
The injured person was in a serious but stable condition, a hospital spokesperson told NZPA.
Pukerua Bay resident Kathy McLauchlan told NZPA she could see the crash site from her window.
Weather conditions at the time of the crash were "extremely misty", she said.
"Since the mist has lifted we can see it."
The crash happened quite high on the hills overlooking Pukerua Bay, Ms McLauchlan said.
Defence Force communications director Commander Phil Bradshaw said there would be no official comment until the force had established what happened.
- with NZPA, NEWSTALK ZB