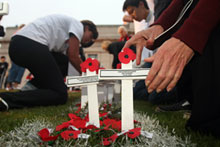 Thousands of Aucklanders turned out for this morning's Anzac Day dawn service.
Many children wore their grandfathers' and grandmothers' medals as the sun rose on a foggy but mild morning.
Today's ceremony marked the 95th year since the landings at Gallipoli in 1915 and the first year that the Australian anthem was sung as Australia's flag fluttered alongside New Zealand's at the Auckland War Memorial Museum.
The show of unity was not lost on Australian Jo Larner who thought it was "lovely".
"My son's grandfather was a paratrooper, I knew him as Grandad Warren. He went in behind enemy lines in Germany," she said.
This morning's service began in darkness as the veterans from World War II, Korea, Vietnam and Malaysia marched on to the Cenotaph parade ground.
Those in the crowd who had managed to find a seat, stood and clapped.
Defence Minister Wayne Mapp said thousands of New Zealanders left to fight in World War One in what was the country's "first steps on to the world stage".
He spoke of the troops who were killed at Anzac Cove.
"We cannot imagine the human suffering, the hardships and the horrors they endured," Dr Mapp said.
He quoted Colonel William Malone, who lead the Wellington Battalion at Gallipoli.
"They were being sent to chaos and slaughter, nay murder," Colonel Malone wrote in his diary as some 450 men were told to engage with the Turks on the side of a hill.
Dr Mapp said the lessons learned at Gallipoli were still relevant today.
"Sharing the stories of one generation from generation to the next means the spirit of Anzac carries on through the ages. They will always be an inspiration to us and must never be forgotten," Dr Mapp said.
Auckland Mayor John Banks also paid tribute to the Anzacs and the heavy losses on the first day which saw 600 soldiers killed by nightfall.
"The Gallipoli campaign caused profound misery and comparable grief. Our casualties were enormous. Everyone knew someone who would not return," Mr Banks said.
He said the Somme, Seine and Passchendaele also took the lives of thousands of New Zealanders, some as young as 14 who had lied about their age.
"As Lance Corporal Lawrence Sarten wrote of his battle at Paschendale: Dear Mother, it is my birthday but you would not know that I am in hospital seriously wounded.
"I was hit recently during a big advance. I was digging in to consolidate our new front line when a high ex shell burst almost in my face.
"Mother, the boy digging a foot or two off me was blown to pieces. I thought my time had come. I lay there for 25 hours before I was carried out. Thank God for my marvellous escape."
He said those gathered this morning did not want to glorify war but instead reflect on the service that so many men and woman gave to New Zealand.
A veteran of Vietnam, Rob Lemm is now 63 years-old and was supported by "an army of supporters" including his wife, sons, grandson and sister-in-law.
"I know we didn't win the war, which is true but I've maintained the tradition. My father was in World War II and my grandfather was in World War I," Mr Lemm said.
He said he was proud of his family who had got out of bed early on a Sunday to be with him on this special day.
"A lot of Vietnam vets have died. I'm one of the lucky ones - there are bugger-all at the RSA Club I am at," Mr Lemm said.
Fijian Reuci Salato's father, Dr Macu Salato, served on the Fijian ship HMS Viti with the New Zealanders in the Solomon Islands during World War Two.
Her daughter, Amelia, was proudly wearing her grandfather's medals.
"We just want to keep the memories alive," she said.
Kevin Dawkins' son Samuel clutched a portrait of his grandfather Alfred Bridge during this morning's service.
"We live in a different time. It's a chance to be still and remember," Mr Dawkins said.
In Wellington, an estimated 3000 people attended the ceremony at the capital's cenotaph, where Army chief Major General Rhys Jones said Anzac Day was not a celebration.
"It's not a commemoration of victories that gained independence for our country or a great battle that established our name on the international arena," he said.
"Anzac Day is a time to remember and reflect on the sorrow, loss and sacrifice that is the obligation of nationhood, the cost of liberty and the price of freedom."
Major General Jones said the cost of freedom was constant vigilance.
Thousands also attended services at other towns and cities throughout the country.
Meanwhile, John Key has paid tribute to all the countries whose men fought at Gallipoli.
The PM is attending ANZAC Day commemorations on the peninsula for the first time as representatives of both sides of the Gallipoli campaign came together at the spot where soldiers fought, 95 years ago.
Last night, he addressed crowds at the Turkish service at Mehmetcik Abidesi.
Mr Key says it is a misconception to think only British, Australian and New Zealand soldiers fought in the campaign, naming Scots, Irish, French, Algerians, Moroccans and Fijians, among others.
John Key described Gallipoli as a story of enemies, who displayed mutual respect on the battlefield, and then formed strong ties to move from foes to old friends.
He says countries on both sides of the conflict now stand together under the United Nations, and work with one another in the world's trouble spots.
CCID: 32947
Mr Key says long-lasting friendships have developed from the ruins of a fierce and tragic campaign, and that it is our duty to uphold these bonds, which have been strengthened over the years by people of goodwill seeking to build a more peaceful world.
John Key acknowledged the Turkish people, who he says have treated those who died at Gallipoli with dignity and respect.
- with NZPA, NEWSTALK ZB
By Edward Gay @edwardgay

Email

Edward