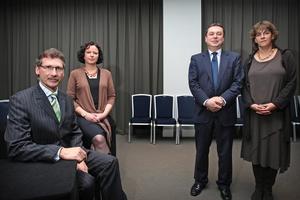 Courts are stressful places at the best of times. For child witnesses they can be traumatic. New research into the upsetting experience concludes that the process should be made fairer for children.
The report, Child Witnesses in the New Zealand Criminal Courts, by Auckland University of Technology's (AUT) Institute of Public Policy, describes children cowering under examination, being mocked in the courtroom, and facing language barriers and excessive delays.
Researchers found that witnesses faced an average wait of 15 months for their cases to come to trial. The waiting period was stressful for children and their supporters, and could impact on memory.
The research, funded by the New Zealand Law Foundation with contributions from the Ministry of Social Development, Ministry of Justice and police, focused on children aged 17 and under who had given evidence for the prosecution in criminal proceedings as complainants or witnesses.
Data was collected from district and high courts in Auckland, Manukau, Wellington and Christchurch during 2008 and 2009.
Catherine Masters looks at the case for the prosecution and the defence
For the prosecution
Phil Hamlin recalls one of the many highly unpleasant cases he has prosecuted for the Crown.
A girl had been raped by her step-father for some years.
She was being questioned via a closed circuit television camera, meaning her answers were relayed into the courtroom via a microphone and a TV from the little room next door where she was sitting away from the defendant.
At least, she was sitting, Hamlin says, until it all got too much for her and she disappeared from view.
He remembers asking where she had gone and then there she was, lying in a foetal position under the desk.
A combination of what had happened to her and having to relive the events later had simply overwhelmed her.
They had to break because she just lay there and wouldn't, or couldn't, say anything.
"It got worse during cross examination... In cross examination she just went into her shell really."
We're in one of the courtrooms at the Auckland District Court, where Hamlin spends much of his time when he's not prosecuting at the High Court.
He's telling this story, of a case which took place only last year, because of a hefty report released this week which recommends a big change to the way child witnesses are cross-examined.
Though he has not seen much in the way of defence lawyers yelling at child witnesses or of bullying them, though the report found this happens, the very nature of our adversarial court system can make the process fraught.
Cross-examination is an integral way our system attempts to get to the truth.
Defence lawyers take instructions from clients who say they did not do what they have been accused of. Thus the defence lawyer must test the evidence of witnesses and find any holes which could prove their client's innocence.
This new report, though, suggests that at least with child witnesses the traditional cross-examination is not the best way to arrive at the truth.
Children are hammered with questions which leave them stressed, confused and frightened, even when the questions are nicely put.
Among many recommendations in the report is one to remove the live cross-examination from the defence lawyer and have it conducted by a specially-trained intermediary, someone skilled at questioning children.
The defence would still get to test the evidence and ask their questions, they just wouldn't do it themselves.
For defence lawyers this is a radical and uncomfortable idea, but as a prosecution lawyer Hamlin thinks it has much merit.
The researchers from AUT's Institute of Public Policy also want to have these interviews video recorded much earlier in the piece and all evidence from children presented to the court by way of pre-recordings.
Norway does this already and other countries have elements of this system.
This is not just kinder on children, who must wait sometimes up to 18 months for the case to get to trial - the researchers say it is a better way of getting to the truth.
The first testimony of children is generally already video-recorded within the first few months of a case, says Hamlin.
This recommendation is the next step because, Hamlin says, during cross-examination all that time later children are routinely accused of lying and are questioned in a manner designed to confuse.
Lawyers will often ask long questions containing a number of concepts, but a child will answer only the last concept, for example.
"Did you go to such and such a place and was it sexual activity that took place and then did you go home?" says Hamlin.
The child might just say "yes," meaning she went home.
As we talk, colleagues milling about in the court room join the discussion.
Another prosecutor brings up a case where he says the defence counsel - albeit very nicely - got the child to recant absolutely everything.
The lawyer asked leading questions and the trial was nearly two years after the original complaint.
The prosecutor asked the jury to factor that in, he says. For adults two years is just two years, "for her, that's a quarter of her lifetime. You try to remember a quarter of your life ago."
A tactic of defence lawyers is to trip children up by concentrating on peripheral matters, so they can show or suggest the child is muddled and got things wrong.
But often adults simply don't understand the child's mind or experience.
Hamlin says in one sex trial a child had earlier told police the offender parked his car in the garage, they had gone inside and while the child played on the computer the defendant started touching him.
The defence cross-examined the boy on peripheral issues - "like, did you say he parked the car in the garage? And the boy said 'no, no, it was in the car port.' And the defence said, 'well in your statement you gave the police it said garage.'
"The boy said 'no, no, he parked the car in the carport.' This is a classic, in the sense of examining a 10-year-old boy on what he told a police officer."
The questioning went on in this way for a while until the boy revealed why he didn't say garage, 'you never put your car in a garage, they're for sleeping in."
One of the worst cross-examinations Hamlin says he has seen was by a defence lawyer who questioned a 14-year-old girl very carefully but took two-and-a-half days to do it.
"By the end of it she just agreed with everything. She got sick of it, he just wore her down. After two-and-a-half days she just gave up."
The defence won the case.
Another story involves a judge who asked a 7-year-old boy if he was going to tell the truth. The judge said he didn't want the boy to tell any stories.
The boy didn't look happy and went very quiet. The judge noticed and asked him again, 'you're not going to tell us any stories are you?' and this time the boy burst into tears.
It turned out that when the boy had been briefed about coming to court he was told he was going to get to tell his story.
Hamlin says he just wants the system to work better, not only for the sake of the children but to better get to the bottom of what actually happened.
"I think if you have a stressed, anxious, uneducated witness then you're not going to get good evidence, and I don't mean evidence to convict, I mean evidence on what happened, because they're too distracted by all the events or lying in a foetal position on the floor overwhelmed by what's happening."
For the defence
As a dad, defence lawyer Richard Earwaker likes to think that when he questions children he knows how to talk to them and cross-examine them.
This report, though, seems to suggest otherwise - and that is sobering, he says.
But big issues are at stake and big discussions need to be held before any changes are made.
No defence lawyer likes to reduce a child to tears and stress them out, he says, and actually a softer approach is often more effective in rooting out lies.
Because make no mistake, children do lie, he says.
"For whatever reason, whether they've been put up to it by an adult, misguided loyalties, or whatever. Sometimes actually by just getting them to answer questions in a natural, calm way the lies will be exposed."
It would be a big step to hand that important task to an intermediary, he says.
Sentencing for sexual crimes have just got tougher and if you are convicted of a crime you did not commit you are looking at years in jail.
"You've got to remember as a defence counsel what we're doing is acting for a defendant and generally we're acting for someone who has said to us 'I haven't done this, this child is lying."'
Take one case where he where he interviewed a girl via CCTV but it transpired at the end of her evidence she had no memory of the alleged incidences.
"Everything she was giving evidence about was told to her by her mother."
At that point, the judge aborted the trial.
"That sort of thing would probably have been identified a lot earlier had we had a system like this, so while there are problems with it it I'm not sure they are insurmountable and sometimes it could be better.
"But it's going to involve a huge mindshift and I'm not sure how ready the legal profession is for that."
Lawyers are trained to test the evidence and the current belief is that cross-examination is the best way to do that.
"That's based on obviously hundreds of years of jurisprudence and it's built up over the years. I guess what's happening is that the psychological studies are starting to question it, whether it's actually a legitimate way of doing it."
One of Earwaker's biggest concerns, though, is around issues of disclosure and preparation.
Sometimes defence get late briefs of evidence a week before the trial.
That could not happen if the cross-examination was conducted by an intermediary and pre-recorded months or a year earlier.
And sometimes defence need to hire a private investigator to gather evidence, or they might need to brief an expert, and this would have to be done very early in the piece, potentially a long time before the trial itself.
But these are issues to be discussed and, again, may not be insurmountable.
Once a problem is identified you can't just ignore it, Earwaker says, though the findings did surprise him.
"We're lawyers, not psychologists or behaviourists, and in fact if we think we're being effective and we're not and we're actually traumatising children through the process then I think that's something that can't actually be ignored."
If a system was developed which elicited false allegations at an early stage, that would obviously be good for people accused of crimes.
"And at the same time it's not I suppose retraumatising children if they genuinely have been abused."