British author Anne Perry is as well known for her crime fiction as she is for the murder she committed as Christchurch teenager Juliet Hulme. A new documentary and book offer two very different takes on her past in New Zealand and her present life in Scotland.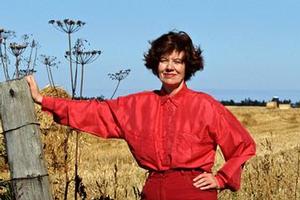 In 1994, British crime author Anne Perry was revealed as knowing more about murder than her detective novels would suggest.
Forty years earlier, as teenager Juliet Hulme, she had helped her friend Pauline Parker to bludgeon her mother, Honora Parker, to death with a brick in a Christchurch park.
Her past was revealed by a Sunday newspaper in the same year as Peter Jackson's Heavenly Creatures, about the two girls' friendship and the killing, was released.
Anne Perry has never watched Jackson's film, starring Kate Winslet as Hulme and Melanie Lynskey as Parker, and was hurt that it was made without consulting her, documentary maker Dana Linkiewicz says.
Linkiewicz's new film, Anne Perry: Interiors, looks at the author's life now in the Scottish village of Portmahomack as a born-again Mormon.
Linkiewicz says she has been interested in Perry's works as an author and her background for some time, and wanted to "portray the tension between Anne's past and her present".
She began by writing to Perry, explaining her vision for the film, much of which is spent observing Perry at work and discussing her writing.
After meeting for the first time and discussing Linkiewicz's concept for about two hours, Perry decided she wanted to be involved.
The film focuses less on the Parker-Hulme murder than audiences may expect.
Linkiewicz says while she wanted to look at Perry's past, she wanted to link it to Perry's reflective style of writing.
"I like to think that there is more to this documentary than a recap of that one day in Anne's life - just as there is more to Anne than just a crime.
"Certainly, Anne's past is a subject of this documentary. She has replied to all my questions regarding her past and has explained her reasons for her involvement."
After a year and half of editing, Linkiewicz showed Perry a version of the documentary, which "took a rather critical stance towards her".
The final cut of the film is much more affectionate, Linkiewicz says.
"I hope this film gives the viewer an insight into a world that no one of us knows or will ever get to know: how do you cope with mistakes you made decades ago and which you cannot undo, no matter how much you want to?"
Author Peter Graham, whose book on Perry and the Parker-Hulme murder is nearing completion, saw the film recently. His book, as yet untitled, is billed as the first "to tell the whole story of the murder of Honora Parker, what led up to it and subsequent events, and with the benefit of modern psychology to try and get into the mindset of these two young schoolgirls".
Perry refused to be involved in the book, but wrote Graham a letter last year mentioning the murder, which she referred to as "the tragedy".
"I thought this is a strange word to use when you've brained somebody to death and talk about it as 'a tragedy' as if somebody got run over by a train or something," Graham says.
"But then when you think about it - and I think this also came through in the film - when she talks about this ghastly thing, she's really just seeing it as a tragedy to her. She's entirely seeing it through her own eyes. She doesn't consider at all what a tragedy it was for poor old Mrs Parker or Mr Parker or the rest of the Parkers. It's all about her."
Pauline Parker has refused to give interviews about the murder and little is known about her, other than she converted to Catholicism, runs a children's horse-riding school, and lives in the Orkney Isles.
VIEWINGS
The World Cinema Showcase runs:
* Until April 14 at the Academy in Auckland.
* Until April 18 at the Paramount, Wellington.
* April 15-28 at the Rialto, Christchurch.
* April 22-May 5 at the Regent, Dunedin.
- NZPA