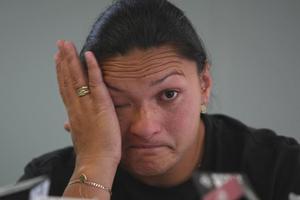 Olympic shot-put champion Valerie Vili struggled to fight back tears yesterday as she announced that her 11-year relationship with coach Kirsten Hellier has ended.
At a press conference in Auckland, Vili paused several times as she revealed that Hellier, who had been training her since she was a 14-year-old, would no longer be part of her coaching team.
"Today, I announce that my coach of 11 years, Kirsten, and I have agreed to end our coaching partnership," she said.
"This has been a tough decision, but we agree that for me to continue the way that I have, new input is required.
"It's sad to be losing Kirsten from my team.
"It's been amazing what we've achieved together, but I have to do more yet."
The 25-year-old, who has always praised and thanked Hellier for her work beyond coaching, said the reason behind the decision was nothing personal, but was "100 per cent professional" and out of a pure want to become better at her sport through somebody with fresh ideas.
"We've just talked together and we're keen ... We feel that it's the right choice to do."
Hellier and her husband, Patrick, have increased their involvement with the Pakuranga Athletics Club since the installation of an all-weather track at Lloyd Elsmore Park.
Vili said her management team was still discussing potential coaches to take over Hellier's position, and would not say whether they were looking overseas or to another New Zealander to take over.
Vili, whose voice continued to break throughout yesterday's announcement, said the break-up with her long-time coach was "still bloody raw".
She thanked Hellier for the hard work and time she had put in to her since she was a teenager.
"Kirsten has always been more than a coach to me.
"She has been an amazing mentor and a friend.
"That part of our relationship will not change."