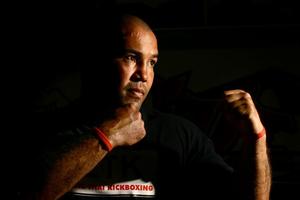 A group of men heavily involved in the local kickboxing scene, including former world champion Jason Suttie, are to appear in the High Court at Auckland on charges of aggravated robbery and blackmail.
Justice Rebecca Ellis last week lifted name suppression for the four men, who include 36-year-old Suttie, a six-time world kickboxing champion who won world titles in six weight divisions.
Charged with him are Clyde Cowley, 38, Adam Riley, 31 and 28-year-old Jan Antolik, all prominent in the Auckland kickboxing scene. The four men will appear for trial in July.
Justice Ellis' order to lift name suppression dismayed Suttie's lawyers, who said naming him would cause "irreparable damage" to his reputation and business affairs.
They said Suttie's ability to attract new clients to the Elite Thai Kickboxing Club he runs in Penrose and from where he earns most of his income, would be adversely affected. A television advertising campaign featuring Suttie for a new energy drink would also be harmed by the order.
But Justice Ellis accepted that some potential clients might not use his gym because of the charges he was facing, but said nothing in the allegations reflected on his ability to run his gym or coach Thai kickboxing.
Furthermore, people were well aware of the concept of innocent until proven guilty.
She said that the factors in favour of continuing name suppression were "not particularly compelling" and were insufficient to outweigh the presumption of open justice.
Kickboxing sources told the Herald they were shocked by the revelations.
One source, who asked not to be named, agreed that despite his reputation as one of New Zealand's best ever fighters and now as a trainer, naming Suttie would have a negative effect on his business.
"It seems a bit unfair that he hasn't been allowed his day in court beforehand ... whether he's found innocent or not, mud does stick," the source said.
He said Suttie, known as "Psycho", thrilled crowds by often defeating larger opponents as he progressed through weight divisions.
A spinal injury forced Suttie's retirement last year after 18 years at the top.
- additional reporting NZPA