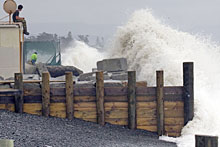 Beachfront residents in the Hawkes Bay have been allowed to return home after waves reported to be as high as a house prompted an evacuation today.
Police told residents at Haumoana and Ocean Beach, near Hastings, to flee after severe swells led to emergency management operations being activated.
But John Bridgeman, looking out from his 60-year-old family home, counting as many as eight waves as high as a house coming at him at once, refused to budge.
"We're safe as a bank here," Mr Bridgeman said, putting his trust in a sea wall he built himself 12 years ago.
The swells that had hit the coast since last night were the worst he had ever seen, he said.
The council said this afternoon the risk had lowered enough for residents to return home, but advised people to remain vigilant.
The council's emergency management operations centre was keeping an eye on sea conditions leading up to high tide at 1.20am tomorrow.
As part of a house along his street collapsed and washed away, and stones were thrown on to the road behind him - coming just metres away from a power pole supplying the neighbourhood - Mr Bridgeman simply admired his handiwork.
"Some of the others' sea walls aren't as solid as mine ... It was a great sight."
The Hastings District Council said despite police asking people to leave, "several" people had chosen to stay - but Mr Bridgeman said no one had left after today's warnings.
Senior Sergeant Ross Smith said the wave surges were large and dangerous, and the public should stay off the beaches and away from low-lying waterways.
"Coastal residents are well practiced at reacting to high swells but even they are saying this is the worst they've seen in 12 years."
Locals reported one wave was higher than a house, Mr Smith said.
The waves, caused by bad weather off the coast, reached 5.5 metres in height before high tide at 1pm.
Hastings District Council spokeswoman Erin Harford said several people had chosen to stay in their homes on Haumoana's eroding beach, even as water surged on to them.
"We've asked residents of 21 houses front of Haumoana to evacuate - but we can't force them. Some have opted to stay."
People along the wider coastline have been told to self-evacuate if they find themselves in danger.
Hastings District Council monitored the high swells over the weekend but has now activated its Emergency Management Operations as the swells build.
Other beaches affected are Waipatiki, Whirinaki, Te Awanga, Clifton, Ocean Beach and Waimarama.
Last night held little sleep for coastal residents as monster waves pounded at back fences, hurled stones at houses and spewed water up to back doorsteps.
High tide hit about midnight with eastern facing and exposed settlements such as Waimarama, Ocean Beach and Whirinaki facing the largest swells.
At Haumoana, a house half-claimed by the sea was further battered and strewn along the beach, and debris and stones covering parts of Beach Rd were testament to how high the sea had come.
At Te Awanga Point the waves flooded the carpark. Onlookers flocked to Marine Parade to watch the high seas.
Hawke's Bay Regional Council river coastal engineer Neil Daykin said the waves hit between 3 and 7 metres last year.
Last year it happened three times, including October (3m to 6m) and late June (4m to 7m), he said.
Residents' group Walking on Water (Wow), which is fighting to protect coastal homes from erosion, hoped the onslaught might finally convince Hastings District Council it should act immediately to save homes.
Group spokesman Keith Newman, who lives at Beach Rd, said he and his wife had to run away from the edge of the road as the sea leaped up.
"The house that got hit two years ago, half of that is missing and strewn along the beach," Mr Newman said.
The community was at risk in these events and it was "absolutely ridiculous" that the council continued to deliberate.
"This is not a five-year plan, or a two-year plan. The local authority needs to act with urgency. The evidence is clear that if something is not done soon, it's going to be far more of a cost to them to deal with the chaos that is left in the wake of the next high seas."
Residents are seeking support from Prime Minister John Key and had invited him to visit the area.
The group had submitted engineers' plans to the council suggesting a $7 million set of five groynes be installed to protect the homes.
The council, meanwhile, was looking at an $18 million, 13-groyne project or start moving homes away from the sea.
Clifton Rd resident Mark Lawrence, moved his son and partner into a room furthest from the sea as waves slammed against his sea-wall, just metres from his lounge and he had no doubt the wall saved his home last night.
Though the wall was not completed, it was "a million times safer than what we had". He built the wall without resource consent and has been fined $3000 for refusing to remove it.
He had begun paying the fine but invited council decision-makers to visit today, to see the aftermath and act quickly on his application for consent.
However the council said it was waiting on more information from Mr Lawrence's consultants.
- With NZHERALD staff and NZPA
By Michael Dickison

Email

Michael, Janelle Kirkland