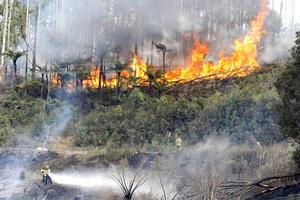 A forest fire which closed State Highway 1 north of Auckland for five hours yesterday is being treated as suspicious.
Billowing smoke closed the highway in Dome Valley, and motorists were diverted through SH16 at Wellsford, or the Kaipara Flats road north of Warkworth.
Up to 70 firefighters from seven brigades and two helicopters dropping water from monsoon buckets fought the blaze after the alarm was raised about 1.30pm.
Rodney District Council principal rural fire officer Scott Marchant said that at the height of the blaze, flames leapt 10m to 15m above a hillside of cut-over pine plantation next to the highway.
The fire fanned out across about 9ha of the Mahurangi Forest block, which is managed by the Rayonier corporation, coming within metres of the highway.
Mr Marchant said the highway was closed to traffic because of reduced visibility and a need to use the road as a base for helicopter and firefighting operations.
The fire had to be treated as suspicious, as it had started well above the highway before spreading down a hill and over another rise.
The highway closure added more than half an hour to road trips.
The fire briefly re-ignited about 4pm beneath a stand of eucalyptus trees, some more than 50m tall, on the opposite side of a forestry fire break from the original blaze.
Mr Marchant said the second outbreak would have been caused by a loose ember.
Despite the size of the fire, he said it appeared to have caused minimal damage to the forest, as it destroyed mainly timber rejects and cut-over scrub.
The monsoon buckets saved the eucalyptus trees, and the nearest homes were about 2km north of the blaze.