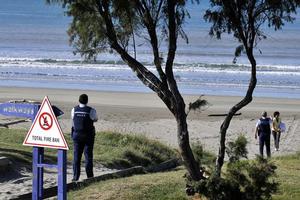 A surge of water measuring 40cm has reached Gisborne while Pitt Island in the Chathams has been hit by a 1.5 metre surge.
Napier, Castlepoint, Tauranga and North Cape tsunami indicators are showing signs that surges of water are reaching mainland New Zealand. The entire east coast has been put on a tsunami alert.
Residents on Pitt Island have recorded surges more than two metres.
The island's Flowerpot Lodge owner Bernadette Mallinson said water levels surged above high tide levels even though the island was at low tide.
If the surges continued in high tide later in the day the effects could be massive, she said.
Surges had begun at 8.30am, and residents were watching the seas from high ground, she said.
There had been no damage reported, she said.
An earlier surge, measuring one metre, has also reached the Chathams and authorities warn that it is heading towards the mainland.
Official tsunami warnings are in place for the entire east coast after a massive earthquake hit Chile overnight.
A wave measuring 1.5m has hit Raoul Island in the Kermadecs, earlier this morning.
Meanwhile, a wave measuring 30cm has reached Gisborne this morning but authorities said a second surge could be larger.
John Davies from Civil Defence in Gisborne said a drop in the sea level has been noted by the local harbour master.
Mr Davies told Radio New Zealand that the council is monitoring water levels and warned people not to go to the beach.
Receding water levels were seen in Indonesia during the Boxing Day tsunami and in Samoa last year.
Civil Defence minister John Carter was informed last night while he was watching the Hurricanes game and has been kept up to date through the night. He arrived at the Civil Defence headquarters in the Beehive basement just after 9am.
"This is very serious. People are a risk around the coast."
He said there a water surge of 1.5m had hit Pitt Island, 60 km below the Chatham Islands.
"It is very likely that something of that significance could hit various parts of the coast of the mainland of New Zealand. It will vary. We can't even tell the time it could go on.
"It will be very likely most of today, but people should stay away from the beach all day today."
He said civil defence officials, police and the coastguard were working together.
"That's always a problem that there are some silly people who think that this is a bit of a laugh and will go down and just watch what happens. The chances are if they do and this is serious, it may be the last thing they do and we'd much rather people just stayed right away."
He said it was the first serious occurrence since the Samoa tsunami.
"These things seem to be occurring a bit more regularly now. People need to understand, they need to learn themselves about what they have to do to protect themselves."
Civil Defence officials were trying to warn people at events on the coast, he said, such as a fishing contest and coastal farmers markets around the country.
The first wave that reached the Chatham Islands, measured 20cm, according to GNS Science, but authorities warn that succeeding waves could be higher. It was followed by a second wave measuring half-a-metre.
GNS Science staff said the waves had reached monitoring equipment off the coast of the Chathams and could slow have slowed down by 20 to 30 minutes. The wave could be further slowed by the continental shelf.
The Civil Defence Emergency Management office has put a warning in place for the entire east coast of New Zealand and warn that a tsunami between one and three metres could be on its way after an 8.8 magnitude earthquake in Chile over night.
GNS Geonet project director Ken Gledhill said the it was the fifth largest quake the world had seen since 1900.
Mr Gledhill said the wave that resulted from the quake first reached New Zealand Gledhill at 7.20am.
"Its built now to around 30cms high and it's likely to carry on building for the next few hours," Mr Gledhill said earlier this morning.
"There's always big uncertainties and that's the biggest issue for Civil Defence.
When you tell them it might be between 1m and 3m at the beach, that's quite a wide range but it's the kind of uncertainty we have to deal with. Add to that uncertainties in timing where the first wave probably won't be the biggest one unless you're quite near the source.
"The message is - you probably don't have to go to the beach today. It's probably better if you don't," he said.
He said people wanting to see the wave would have to be "significantly above sea level" to be safe.
"The problem with these events are ... if you have two parts of the wave train that add together you can suddenly get a bigger wave. that's why it's probably easier to get a better idea when you are in the main beam of the event rather than on the side like we are," Mr Gledhill said.
He said for most of the country, the tsunami is a marine threat.
"That means if you go to the beach or on a small boat you could have an issue. We are still talking about less than a metre for most of New Zealand, but there's potential for the Chatham Islands and Banks Peninsula for something more than that (1m to 3m)," he said.
"One metre is not considered to be a destructive tsunami except if you're in the wrong place and it washes you out to sea. There'll be extra currents too. The currents will be crazy, probably for days.
"Apart from if you're unlucky and happen to be in one of these places where the wave gets amplified for some reason, it won't probably be too serious. That's our prediction at the moment. Hopefully it stays like that," Mr Gledhill said.
Meanwhile, many New Zealanders were going about their usual Sunday morning activities, blissfully unaware of the danger.
On Auckland's North Shore, people said they were unaware of the warning, which was sparked by an 8.8 magnitude earthquake in Chile last night.
Police are at the Takapuna boat ramp and are warning people not to go out on the water.
However, not all are heeding their advice. One couple have just launched their boat.
A man, who did not give his name to the Herald, said the warning did not worry him.
"I've heard every report from the last three hours. The safest place is on the water. We feel ok," the man said.
A waka ama event nearby has been cancelled. Paddlers from as far afield as the Solomon Islands had turned out for the event. Despite the cancellation, waka have headed out to sea.
Several other boaties who were about to head out were alarmed at the prospect of a metre-high wave hitting the east coast and were reconsidering their day on the water.
At Milford Beach two women who were about to set off on a walk along the coast to Takapuna were apparently unperturbed about the warning and did not change their plans.
"I've got my flippers," said one of the women.
The tide in Auckland was very high shortly after daybreak and many houses on beaches and in the east coast bays were likely to feel the impact of a metre-high wave if it hits Auckland.
However it appears the warning had not reached many people and there were still boats being launched.
On a bay north of Milford a man was fishing off a rocky outcrop.
At Whitianga a resident told NZPA that a warning siren had gone off, but residents didn't know what it was, so stayed put.
In Gisborne a voluntary evacuation was underway of residents at Midway and Waikanae beaches, but in Napier stall-holders were setting up their Sunday market on the foreshore.
They said they preferred to wait until they had heard what had happened in the Chathams before packing up and moving inland.
On the Chatham Islands, Catherine McKenzie is working at the Chatham Lodge, situated inland near the Henga Scenic Reserve.
About 40 locals have left their homes on the coast and gathered at the lodge to watch the news and listen to the news on the radio.
"This is a safe place, a high place," Ms McKenzie said.
She said she was called by her boss at 3am and people began turning up two hours later.
The quake which has sparked the tsunami warnings hit 325 kilometres southwest of Santiago, at a depth of 35 kilometres at 3.34am local time (6.34pm NZT), the US Geological Survey reported.
A wave measuring 2.34 metres was recorded near Chile and Tsunami warnings were issued over a wide area in the Pacific.
The New Zealand Ministry of Civil Defence and Emergency Management (CDEM) said areas of land could be threatened on the Chatham Islands and Banks Peninsula, while waves of less than 1 metre were likely for the entire east coast of New Zealand.
The township of Waitangi in the Chathams at 7.05am and was the first New Zealand landmark scheduled to be hit, according to the CDEM warning.
"The first wave may arrive later and may not be the largest. Strong currents and unusual tidal effects may continue for several hours," the warning said.
Canterbury CDEM group said residents in low lying areas of Banks Peninsula bays, where the tsunami was expected to arrive about 8.30am, should be prepared for an evacuation.
"People need to be ready to move to safety by 8am and may not be able to return for at least 24 hours."
People on coastal areas were asked to stay off beaches, avoid the water (including rivers and estuaries) and refer to media or their local Civil Defence authorities for updates.
The ministry asked that people avoid calling 111 for information, reserving that number for emergencies.
Estimates show the first wave reaching the east coast of the North Island by 8am ahead of the main centres of Wellington (8.25am), Christchurch (9.05am) and Auckland (10.22am).
However, those times have now been put back by between 20 and 30 minutes.
Meanwhile events around the country have been cancelled and the main railway line has been shut down in Kaikoura as a precaution.
KiwiRail spokesman Kevin Ramshaw said the line has been closed as a precaution.
He said the tranz-coastal train had left Christchurch but was aware of the tsunami warning and KiwiRail was monitoring the situation.
Mr Ramshaw said inter-island ferries have been diverted through the Tory Channel - a westerly route into the Marlborough Sounds and will be running late.
- With NZPA