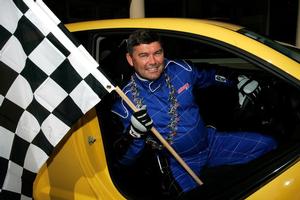 Controversial Mayor Andrew Williams will swap Supercity wrangling for handbrake turns next weekend.
The North Shore leader will line up in a race to find New Zealand's fastest personality at the Top Gear Live event at Auckland's ASB Showgrounds.
Williams will test his skills behind the wheel against fellow mayors Bob Harvey from Waitakere and Ross Dunlop from South Taranaki.
Other contestants will include TV hosts John Campbell, Oliver Driver and Carly Flynn.
Williams, who made headlines last year for late-night texts and emails to politicians including Prime Minster John Key, expected little competition from eco-friendly Harvey.
"I would have thought he'd be riding a bike or driving a Prius, so I can discount Bob," he said.
Harvey revved up the competition by replying: "I'm a Westie, this kind of stuff is second nature to me."
The challenge is based on the TV show's "star in a reasonably priced car" segment.
Competitors will be trained by stunt driver Peter Bell, before performing tricks including an extreme parallel park between inflatable cars.
The challenge will end with a three-lap time trial on a 700m track.
Williams, who owns an S-type Jaguar, said he was a car buff but not a hoon: "I'm usually pretty sedate in the mayoral car."
And he had reservations about his stunt-driving abilities: "I think there could be a few of those inflatable cars going in all directions."
Williams will be in action at 2.15pm next Sunday.