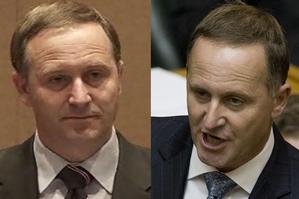 Prime Minister John Key has come under fire in Parliament this afternoon after a Herald video revealed he had ruled out a GST rise during his election campaign in 2008.
Mr Key outlined the Government's 2010 agenda to Parliament yesterday and signalled it was likely to raise GST from 12.5 per cent to 15 per cent in May's Budget.
But in a 2008 press conference, Mr Key said raising taxes would not happen under a National Government.
"National is not going to be raising GST. National wants to cut taxes, not raise taxes."
Mr Key made the comment when asked if he could rule out a GST rise as a new Government grappled with deficits.
In Parliament today, opposition leader Phil Goff, challenged Key over the GST flip-flop.
"On what basis does he claim a mandate for increasing GST when he explicitly promised the nation that he wouldn't do so?", he asked.
Progressive Party leader Jim Anderton joined the attack. "When the Prime Minister told New Zealanders that National is not going to be raising GST, what did he mean by the word 'not?'"
"Has he got a lot of other definitions that most of us don't understand?," he asked.
Key responded to the comments by emphatically denying that he had ever said he would raise GST to cover deficits.
"The question was, 'would I be required to raise GST to cover deficits?' And the answer to that question is, no we won't," he said amid a chorus of howls.
A National Government would borrow in the short term, Key said in 2008. A tax hike would only be a consideration five years down the road, by which point economic growth would have made it unnecessary, he said.
"If we do a half decent job as a Government growing our economy, I'm confident that's not going to be happening and that's not on our agenda."
However, in his statement yesterday, Mr Key said: "The Government is also carefully considering a modest increase in the rate of GST, to no more than 15 per cent."
"Is his decision now to raise GST an admission that National isn't even doing a half-decent job in managing the economy?," Goff asked today.
"National won't be increasing taxes. National will be reducing taxes, which actually proves we're doing a really good job," Key responded.
Key's argument is understood to centre on the belief that cutting personal personal tax rates would offset a raise in GST, resulting in an overall reduction.
A spokesperson for the Prime Minister contacted today by nzherald.co.nz would not comment on the discrepancy.
- NZ HERALD STAFF