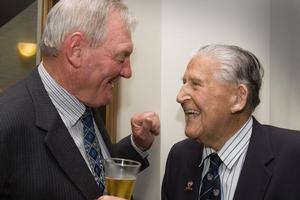 All Black coaching great Fred "the Needle" Allen, who turned 90 yesterday, said a civic reception in his honour was a "humbling experience".
The reception, hosted by Auckland City Mayor John Banks at the Council Chambers, was attended by more than 90 guests, among them former All Black greats Sir Brian Lochore, Sir Wilson Whineray, Sid Going and Ian Kirkpatrick.
"To be honoured in the presence of my peers by the mayor of New Zealand's largest city is indeed a humbling experience and one that will remain a treasured memory for the rest of my life ... which hasn't really got long to go."
A former All Black first five, Mr Allen also was unbeaten as coach of the national side, guiding them to 14 test wins.
Sir Brian, his skipper during his time as test coach from 1966 to 1968, told the reception that Mr Allen was "the patriarch of New Zealand rugby".
He said he was one of the luckiest players in New Zealand rugby history, "because I was the All Black captain right through Fred's reign".
"Our friendship has endured a long time and I really enjoyed my role as captain with you and the players."
As patron of the Auckland Rugby Union, Mr Allen regularly attends matches at Eden Park and is held in high esteem, said chief executive Andy Dalton.
Although he has a long association with Auckland, Mr Allen was born in Oamaru and first played provincial rugby for Canterbury. He was made a life member of the NZRU in 2006.