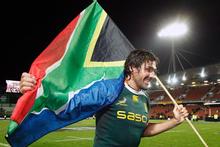 A new state, a new beginning, a new identity - there have been many reasons to toss out the old and adopt the new when it comes to national flags.
The first fully inclusive elections in South Africa and turning its back on apartheid were ample reason to have a new national flag, though it wasn't all smooth sailing.
A nationwide competition began in 1993 and the commission received more than 7000 designs.
Six were chosen but none excited the public.
When the process stalled Frederick Brownell drew up an interim design for the April 1994 elections. The flag was to be reviewed in five years, but it was so well received that it remains the country's official flag.
Countries at the mercy of foreign powers have often had several flag changes to reflect who is in charge.
Lithuania had a national flag featuring the hammer and sickle while it was under Soviet rule, but reverted to its tricolours after it regained independence.
Similarly, Zimbabwe has had several flag changes to accompany its name changes over the years from Southern Rhodesia to Rhodesia to its present name.
Independence was also the catalyst that saw the United States change its flag, removing the Union Jack and replacing it with white stars against a blue background. The number of stars changed dozens of times before its current form, with 50 stars representing 50 states and red stripes.
Controversy has also been rife in the design of many of the world's flags.
Iraq has had at least seven, with many of the flags and proposed designs stirring controversy among its people.
In 2004, a new design was so unpopular with the public that it was reportedly burned the day before it was to be officially adopted as the national flag.
A public uproar ensued because of the absence of the colours green and black - to symbolise Islam - and the dominance of blue and white.
This was seen as too similar to the flag of Israel, its traditional enemy.
Religion dictated the origins of the Israeli flag, revealed in October 1948 five months after the country was established.
The Mexican flag changed as the nation went from an empire to a republic to an empire and back again.
Canadians used different flags for years before they adopted the maple leaf ensign, after vicious debate and political tactics such as filibustering.
This week the Herald will look in depth at the flag changes of Canada and South Africa.
FROM UNION JACK TO BAUHINIA
* The last time the Union Jack was decommissioned from a national flag was when Hong Kong was transferred back to China in July 1997.
* The flag used to have a Union Jack in the top left-hand corner, with the coat of arms of Hong Kong against a blue background.
* Hong Kong now has a regional flag - the flower Bauhinia blakensis against a red background - which usually flies alongside the Chinese national flag.
By Derek Cheng

Email

Derek