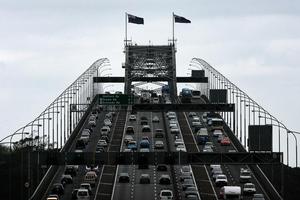 A man has survived a 45-metre leap from the Auckland Harbour Bridge but is seriously ill in hospital.
The man drove to the top of the bridge about 3pm yesterday, ran across two lanes and leapt over the side without hesitating, said police.
He was seen by a passenger on a passing ferry who alerted the captain. The ferry stopped and retrieved the badly hurt man from the water.
Inspector Dave Walker, from the police motorways unit, said people who jumped from the bridge seldom survived the fall and the man was lucky to be alive although his condition was "not flash".
He said as the man jumped the westbound ferry was passing under the bridge.
"One of the passengers witnessed him come down and told the ship captain. The deckhand of that ferry pulled him on board.
"Not many people survive that. It depends on whether you have flat water or calm water but it also depends on how you fall," Mr Walker said.
He said a fall from that height was like jumping onto concrete.
One or two people killed themselves by jumping from the bridge each year but just before Christmas a woman was rescued by a motorway policeman as she climbed over the rails.
"He grabbed her around the neck and ripped her back again.
"He saved her from going but clearly our guys can't get outside the safety of those barriers," said Mr Walker.
Other potential jumpers had been talked down, he said.
- NZPA