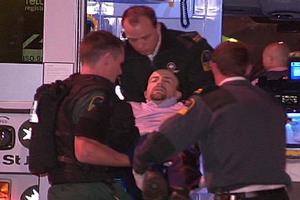 A man arrested in connection with the shooting of an Auckland police officer has been given bail after appearing in Auckland District Court today.
Darren Thomas Court, 43, was arrested on Christmas Eve on a warrant relating to the shooting of Constable Jeremy Snow two days earlier.
Mr Snow walked into a hail of bullets early last Tuesday morning in Papatoetoe while investigating a car that looked like it was being tampered with.
He was still recovering at Middlemore Hospital.
A second man had earlier been arrested and charged with the attempted murder of Mr Snow.
Court has been charged in relation to two warrants for car theft and violence, Radio New Zealand reported.
He will next appear in court next March.
Police were still investigating whether he had any involvement with Mr Snow's shooting.
- NZPA